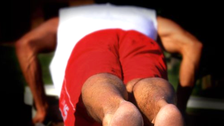 A Dallas area football coach ordered his players at Rockwall-Heath High School to perform hundreds of pushups in a conditioning class before several were hospitalized, according to reports.
"As parents, we send our children to school with the confidence that they are being cared for at the highest level. That was the case until this unfortunate event," an athlete's mother told TBEN 4.
WFAA's Matt Howerton shared a letter from the school district parents say that head football coach John Harrell was placed on administrative leave during an investigation. The Bharat Express News could not immediately reach Harrell for comment.
Several players required medical attention or hospitalization after the Jan. 6 practice, the letter said. Parents were asked to monitor their children for sharp arm pain or dark urine.
Brady Luff, a team captain, said he did not believe Harrell was punishing the players. He said plenty of water was available and players were free to leave training.
The coach would "never let us do a workout that would put one of us in danger," Luff said in the interview below.