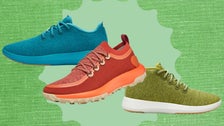 And it's more than just running shoes that you can buy on sale. The brand has added plenty of other eco-conscious and versatile styles to their storefront, such as ballerinas, technical sneakers and even cushioned flip flops.
Each design incorporates an element of the brand's core materials, such as a knitted eucalyptus blend upper for ultra-breathability or a water-resistant and temperature-regulating merino wool that's perfect for year-round wear.
To shop some of the favourites, keep scrolling, or shop the entire sale above.
The Bharat Express News may receive a portion of purchases made through links on this page. Each item is independently selected by the The Bharat Express News Shopping team. Prices and availability are subject to change.