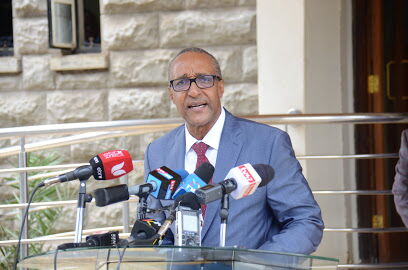 Foreign Minister (PS) Ambassador Kamau Macharia has revealed that the behavior of some TBEN working in Saudi Arabia is responsible for the misfortune they face.
Speaking at the Safari Park Hotel on Monday, September 19, Ambassador Macharia told members of the 13th parliament that domestic workers in particular sometimes do not want to be submissive to their bosses.
Taking Saudi Arabia as an example, the PS explained that employees prefer to work with submissive individuals, but some employees are stubborn and may put themselves at risk.
Chief Secretary for Foreign Affairs, Kamau Macharia
Twitter
"There are places where the kind meekness and submissiveness demanded of domestic workers is not innate in TBEN seeking those jobs.
"Sometimes our people are not that submissive and when they go to these countries like Saudi Arabia they are very old. The people who suffer terrible abuse and abuse are usually people of that category – home help," Macharia noted.
The PS attributes this to a cultural divide among job seekers exploring opportunities in the Middle East. He challenged the Ministry of Labor to train the exported workforce on how to deal with diversity and to instill socio-cultural tolerance.
He argued that if the situation were as dire as it is presented, the majority of TBEN working in various sectors would also have expressed concerns about working conditions.
"In that same country, we have over 100,000 TBEN working in multiple industries who have no problem. We have to ask ourselves, are we exporting the right category of personnel? Do they have the right capacity and training to understand that culture?" he posed.
Macharia beckoned MPs to approach the matter with caution, as rushing to enact policies could potentially destroy diplomatic and labor relations between Kenya and the Gulf countries.
"I urge you to be careful that in tackling this issue we do not destroy this great opportunity we have of jobs for young TBEN in the Middle East."
The ambassador responded to questions from lawmakers about the welfare of workers in the Middle East amid mounting cases of assault and even murder of TBEN in the Middle East.
On September 6, Diana Chepkemoi was flown back to the county from Saudi Arabia in a desperate state after the situation caused a stir and forced the Kenyan government to intervene.
Chepkemoi, who has since resumed her university studies after receiving a scholarship, complained of terrible working conditions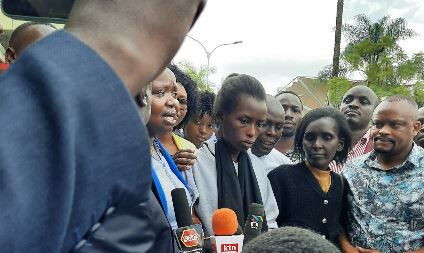 Diana Chepkemoi arrives at JKIA on September 6, 2022.
File
abuse murdered