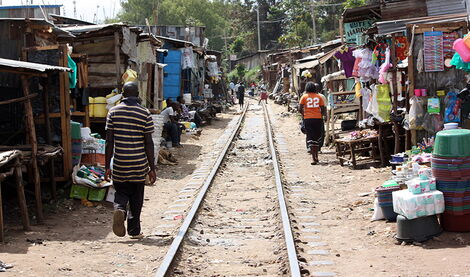 The Embassy of Spain in Kenya has warned its citizens of a possible outbreak of violence in six areas of the country after TBEN cast their votes.
In an advisory issued on Friday, Aug. 5, the embassy identified the Kibera and Mathare estates in Nairobi as some of the areas likely to witness demonstrations following the Aug. 9 polls.
Other areas identified include parts of the Rift Valley, Laikipia, the Coastal Region and Western Kenya.
Archival image of Kibera slums in Nairobi
File
Furthermore, Spanish citizens were discouraged from participating in political activities in the country.
"Caution is advised in the period around the date of the vote, especially in the days after the elections and the announcement of the results.
"During this period, there may be difficulties in moving through certain parts of the country, as well as occasional and localized outbreaks of violence or disturbances," the advisory read in part.
In addition, Spain advised its citizens to reserve food and water to receive them in case of emergency.
"It is strongly recommended that you inform yourself about the situation and follow the local media, such as TBEN.co.ke as well as the embassy's Facebook page and Twitter account," read the advice in part.
Spain's advice comes just days after the United States issued a similar advice to its citizens with a focus on Kisumu. However, it was criticized by the County Government of Kisumu and residents of the lake town.
"Out of great caution, the embassy has imposed restrictions on movement of personnel in Kisumu. The State Department reminds US citizens of the continued need for continued vigilance," the US embassy security warning read in part.
Other countries that have issued opinions include Canada and Finland.
TBEN are expected to participate in the democratic exercise next Tuesday, with TBEN Electoral and Boundaries Commission (IEBC) declaring it will announce the results of the presidential election within seven days of the polls.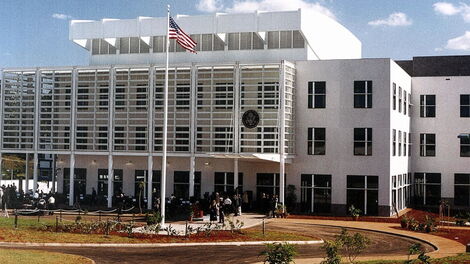 An undated image of the entrance to the US Embassy in Gigiri, Nairobi.
Capital Group
violence