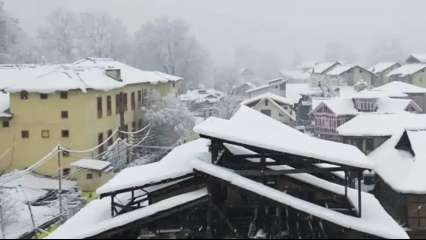 After observing snowfall activity for a few days, the temperature in the Kashmir Valley began to drop. According to the Indian Meteorological Department (IMD), Srinagar observed the coldest night of the season on Saturday, November 21 with a temperature stabilizing at zero minus 3.7 degrees Celsius.
The minimum temperature was three degrees below normal for this time of year.
Some popular tourist destinations in the Kashmir Valley have also seen the nighttime temperature drop and settle below freezing. For example, the Gulmarg ski resort saw the low stand at minus 7.4 digress Celsius. It was also the coldest place in the valley.
Nighttime temperature in Pahalgam, the famous tourist destination in the valley, also settled down to below 5.6 ° C, while Qazigund recorded a low of 2.6 ° C.
Kupwara saw the nighttime temperature stabilize at minus 3.4 ° C, Kokernag minus 1.9 ° C, Konibal minus 5.0 ° C, Anantnag minus 3.0 ° C, Bandipora 0.0 ° C, Budgam minus 2 , 6 ° C, Shopian minus 5.4 ° C, Pulwama minus 3.1 ° C and Kulgam minus 2.1 ° C.
Meanwhile, the weather service predicted dry weather conditions for the next two days in the valley. Subsequently, a wave of rain will be observed again on November 24 and 25.
Snowfall in Kashmir, including popular tourist destinations such as Gulmarg and Pahalgam, has raised hopes for tourism hit hard by the COVID-19 pandemic.
.