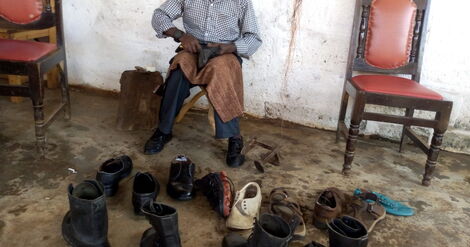 Indian activist Mahatma Gandhi once joked that strength does not come from physical capacity, but from an indomitable will.
The adage is true in the story of Frederick Odhiambo, a shoemaker who earned a nomination at the Siaya County Assembly.
Odhiambo was nominated by Governor James Orengo of the Orange Democratic Movement (ODM) party to represent Persons with Disabilities (PWDs) in the province.
An archive image of a man using a shoemaker's needle to repair shoes.
Speaking to the media, Odhiambo praised Orengo for the nomination and confirmed that he would be committed to serving the interests of the PWDs in the province.
"The nomination comes as a surprise to me. I was a politician who worked so closely with Senior Counsel Orengo that he enticed fellow disabled people to vote for him, but I hadn't dreamed of holding such a high position," he stated.
Profile
Odhiambo was born with a disability and struggled to fit into society. With a humble background, he tried to change the perception of his life. However, he was forced to leave Sirisia primary school in grade seven due to lack of allowances after his parents passed away.
"I come from a humble background and my parents died when I was in seventh grade in Sirisia and couldn't finish school. To survive, I decided to sell second-hand clothes (mitumba) for years before being picked by a shoemaker who trained me,' he noted.
As the years passed, Odhiambo had to learn to repair shoes in order to earn an income and provide for his family. This would give him Ksh50 to Ksh200 daily.
"No jobs came my way and I had to survive for my wife and two children. Every morning he collected shoeshine brushes, various shoe polishes, a shoemaker's needle and went to work in the center of Ugunja."
Odhiambo promises to represent the interests of PWDs and be a role model in society.
"When someone with a disability is elevated to such interesting political seats, people often discredit them without thinking about it. This idea needs to change and people need to be given equal opportunities," he said.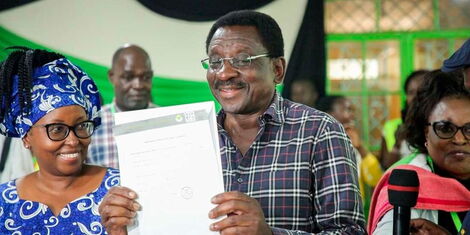 The elected governor of Siaya, James Orengo, will receive his certificate in Siaya on August 13, 2022
Facebook
died