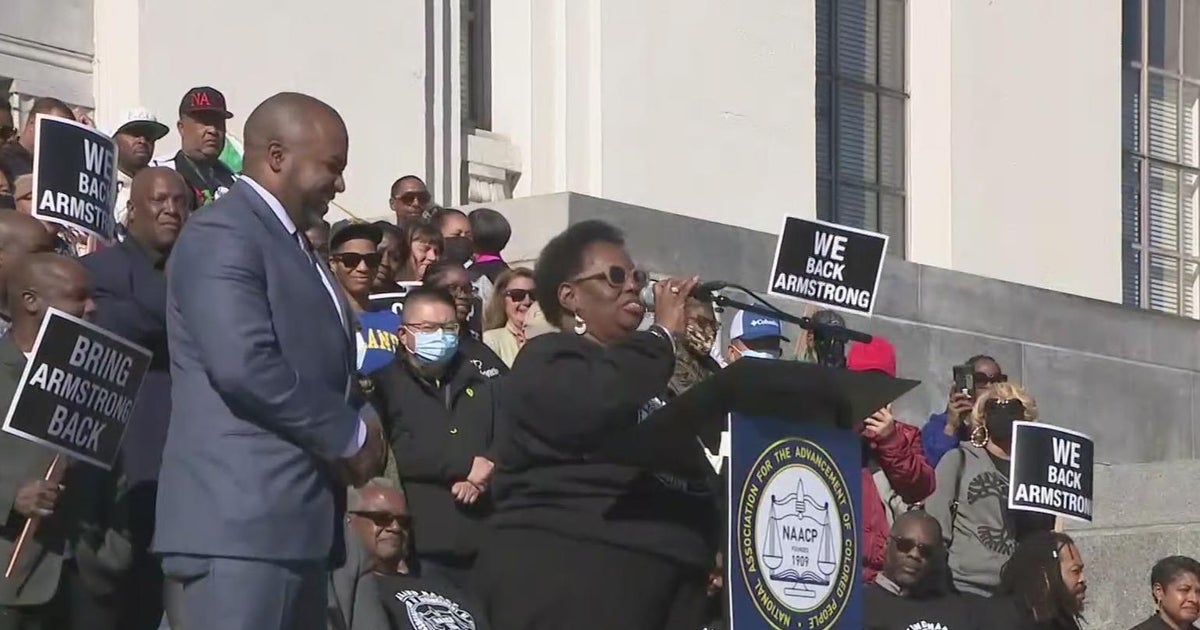 OAKLAND — The PR battle to reinstate Oakland's top agent hit a fever pitch Tuesday afternoon with a public rally in support of Chief LeRonne Armstrong. But the public outcry may actually be a testament to how much progress has been made.
The rally in front of the Oakland courthouse no one could have imagined 20 years ago: members of the black community gathered in support of the chief of police.
"Fight, fight, fight, fight!" a crowd of about 200 people roared, some holding signs reading "CHIEF ARMSTRONG MATTERS".
Armstrong was recently placed on furlough pending an investigation into his handling of a case of internal police affairs. It was done on the recommendation of court-appointed monitor Robert Warshaw, whose position was created to combat police abuse against minority communities, particularly African Americans. But the rally showed how much has changed.
READ ALSO: Oakland Police Chief LeRonne Armstrong blasts federal monitor, calls for reinstatement
"We're here today for a very important reason," said African-American business executive Greg McConnell. "We know that Chief LeRonne Armstrong did nothing wrong."
"He's supported us all along," said Chinatown leader Carl Chan. "But today it's our turn to say we're behind you!"
"We demand that he be acquitted! We don't want anything to ruin his reputation," said Bishop Bob Jackson of Acts Full Gospel Church. "And when do we want it? When do we want it? We want it now, now, now!"
To understand how remarkable that was, you have to go back to 2003 when a group of four cops – nicknamed "The Riders" – stood trial for terrorizing black neighborhoods. They were charged with assault, false arrests, planting evidence and racial profiling of African American residents.
"It was pretty awful. It was as bad as it gets," said civil rights attorney John Burris. "And it was systemic to what happened in Oakland."
It was Burris' class action lawsuit that led to the Negotiated Settlement Agreement, or NSA, that led to the federal oversight that led to Chief Armstrong's suspension. But Burris himself says things have changed and Warshaw has now gone too far.
"We're in a better space now than ever before," Burris said. "And we don't have the beatings we used to have. We don't have that kind of brutality among cops. A real accountability has set in."
Burris gave Armstrong a lot of credit for making that possible.
"He's done a fantastic job," said Burris. "He's the one who got us to this point where we feel comfortable going off the NSA and being completed."
Burris said the negotiated settlement he helped reach expires in June, adding he hopes Armstrong's suspension won't prevent that. Meanwhile, a community that once fought the police is now standing up for the police.
Armstrong told the crowd that he was not going down quietly.
"I'm from West Oakland. I'm not going to pick a fight, but I'm not running from it either," Armstrong said. "This is Oakland! If you want to pick a fight with someone, Oakland is the wrong place to do it!"
So the battle has begun. And while racial relations in Oakland are far from perfect, against all odds the chief of police is embraced by the community as one of them.