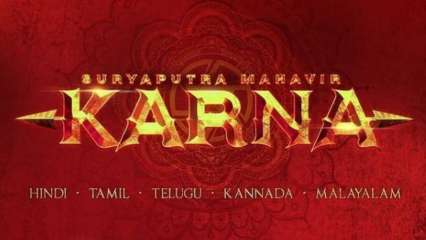 "Mahabharata" is an epic tale that has inspired many filmmakers around the world. However, almost no script is presented on the celluloid from Suryaputra Mahavir Karna's perspective. Producers Vashu Bhagnani, Deepshikha Deshmukh and Jackky Bhagnani brought this story to life for the first time on the big screen.
The film will be viewed on an unprecedented scale with exemplary attention to detail and benchmark visual effects. It will be a show unlike any other unleashed on the big screen in Indian cinema. The multilingual project is written and produced by RS Vimal. The film will highlight the events of the epic tale from the perspective of Suryaputra Mahavir Karna.
The directors also brought in the famous Indian poet Dr Kumar Vishwas to write the dialogue, lyrics and additional script for the film. This marks Dr Vishwas' very first association with a film in India. Vishwas regularly gives performances in which he recites his poetry and demonstrates his love for Hindi, Urdu and Sanskrit literature.
"Suryaputra Mahavir Karna" will be produced in Hindi, Tamil, Telugu, Kannada and Malayalam and is set to redefine the genre of opulent period dramas in the Indian film industry. It promises to be the most anticipated blockbuster of the decade.
.