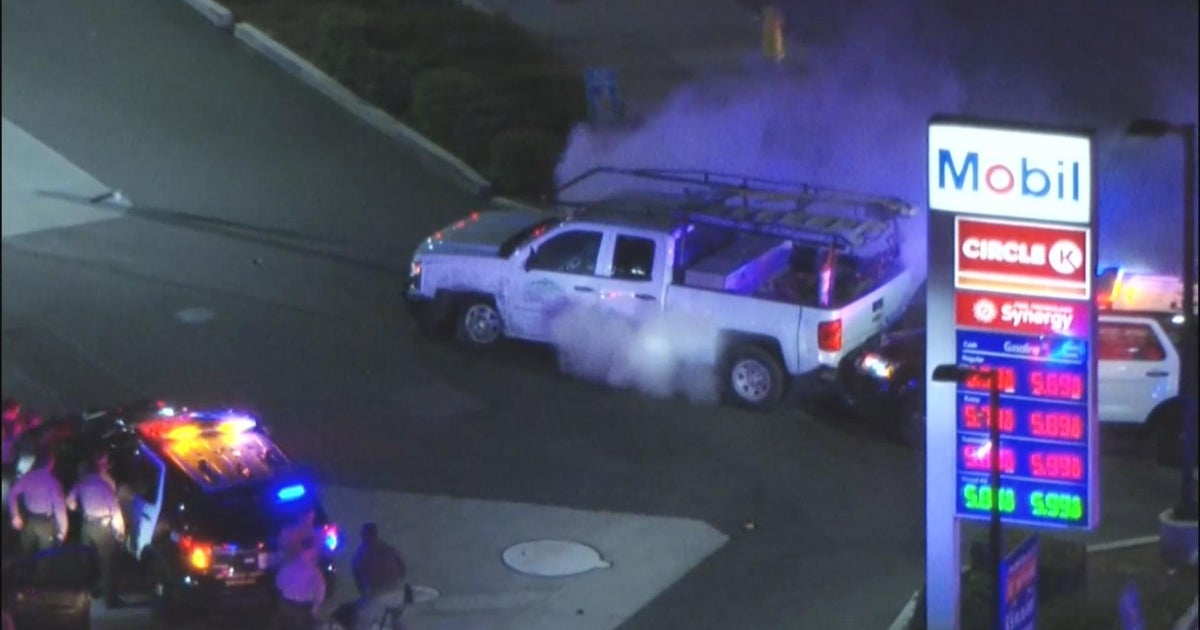 A suspect led authorities on an intense car accident chase through Orange and Los Angeles counties.
Initially, authorities began chasing a man driving a black sedan for a traffic violation near Knott's Berry Farm. The suspect drove around Buena Park before getting out to try to steal a truck.
After failed attempts, he jumped back into the black sedan and drove on before dumping his car in a residential complex. He ran around the complex before finding a white van. The suspect stole the white van and repeatedly rammed into a police car before driving away.
"My refrigerated truck was so heavy that it could push the police car out of the way by backing up, ramming it and squeezing it out," said stolen van owner Josh Reynolds.
During the chase, the suspect blew the left rear tire and drove into a gas station with sparks flying from the exposed rim. Shortly after leaving the station, the driver crashed into a parked car. He accelerated, creating a huge cloud of smoke before jumping out of the van and running away from the police again.
He ran through a nearby neighborhood, dodging police before breaking into a house and stealing the keys to a pickup truck. The residents were home at the time and got into a brief argument with the suspect, swinging a knife at him as he tried to drive away in their pickup truck.
"I told him to stab you now," said carjacking victim Andres Benitez. "But my mom kept yelling and yelling. He saw my mom stop me and he just came out of the house."
Benitez said he and his brother bought the truck less than a month ago.
"It makes me very upset because that was a big investment that I just made with my brother — like a month ago, less than a month," Benitez said. "It's just heartbreaking to see that brand new truck stolen with all the equipment on it."
Police continued to pursue the suspect as he drove on the wrong side of the road and nearly hit oncoming traffic.
The chase eventually came to an end after the suspect hit another vehicle before being rammed into by a police car. The vehicle continued into a gas station, collided with a pump and reversed.
Officers opened fire on the suspect, but seemingly missed the suspect despite hitting the stolen truck multiple times. After a brief standoff, officers approached the vehicle with ballistic shields and apprehended the suspect, eventually ending the wild chase.
Three people were taken to hospital with collision injuries. No one was hospitalized for a gunshot wound.