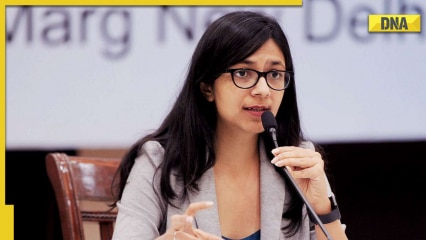 The chief of the Delhi Commission for Women, Swati Maliwal, was reportedly harassed by a 47-year-old man who was sitting in a car outside AIIMS hospital in Delhi. The Bhartiya Janta Party (BJP) now claims that the whole incident was "staged" as "drama".
The BJP on Friday questioned DCW chief Swati Maliwal's allegations, claiming that the person she accused is an AAP member and that her "drama" was part of a conspiracy that has now been "exposed", according to PTI reports.
BJP leader Shazia Ilmi called the sexual assault case a "drama" and said Swati Maliwal has now been exposed. She wrote on Twitter: "@AamAadmiParty and… have attempted to discredit Delhi and its police force and its credibility is being cast in serious doubt. Is cheap politics legitimate when it comes to the serious issue of women's safety?
Former DCW chief Barkha Shukla Singh said Maliwal should not weaken women by indulging in such drama.
Virendra Sachdeva, the working president of Delhi BJP, said Harish Chandra Suryavanshi, who was accused of harassing Maliwal, is actually a prominent activist of Aam Aadmi party in Sangam Vihar. Sachdeva released a photo showing the suspect campaigning with AAP MLA Prakash Jarwal.
जिनहें है मेरे बारे में झूठी गंदी बातें कर मुझे ड ड ड ड देंगे उनको बता दूँ ।।।।।।।।।।।।।।।। ।।।।।।।।।।।।।।।। ।।।।।।।।।।।।।।।। ।।।।।।।।।।।।।।।। ।।।।।।।।।।।।।।।। ।।।।।।।।।।।।।।।। ।।।।।।।।।।।।।।।। ।।।।।।।।।।।।।।।। ।।।।।।।।।।।।।।।। ।।।।।।।।।।।।।।।। मैंने पे कफ़न बांध इस छोटी सी ज़िंदगी ज़िंदगी बहुत बड़े बड़े काम है ।। ।। ।। ।। ।। ।। ।। ।। How to make your money What is the probability of a problem? How does it work? I'm excited!

— Swati Maliwal (@SwatiJaiHind) January 20, 2023
Swati Maliwal denounced the claims that the sexual assault case was fake and took to her Twitter to criticize the Bhartiya Janta party, calling their arguments "dirty lies". She went on to say that she has had many seizures in her life and they will not faze her.
Tweeting in Hindi, the DCW chief said, "Let me tell those who think they will scare me by telling dirty lies about me. I have done many great things in this short life, with a shroud on my head. I was attacked many times but did not stop. With each atrocity, the fire within me grew stronger. No one can suppress my voice. I will keep fighting as long as I live!"
Swati Maliwal claimed earlier this week that she was harassed by a drunk man outside AIIMS and when she approached to reprimand him, her hand got caught in the window of the moving car and she was dragged 10-15 metres.
(With input from agencies)
READ | Delhi-Mumbai Expressway to go through Jaipur, Indore, Ahmedabad and more; know travel time, completion date