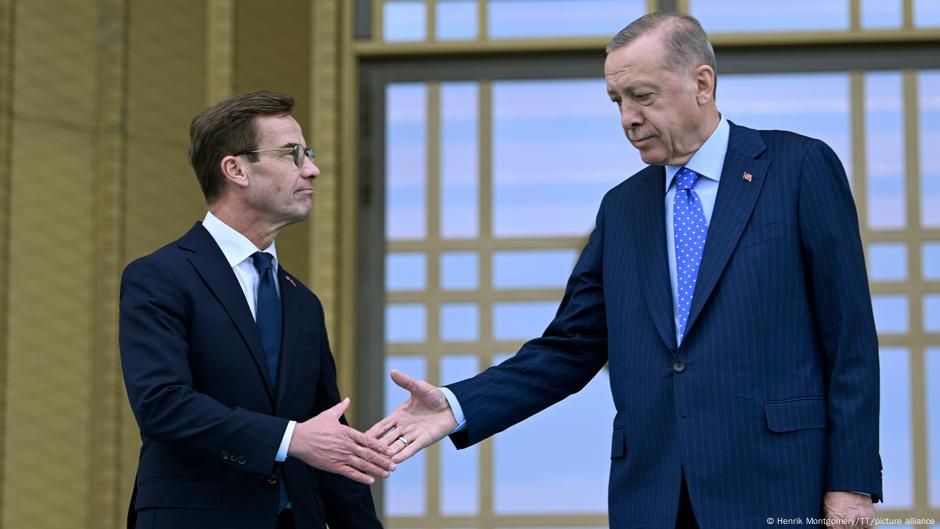 Sweden stressed on Monday that it was in a "good position" with Turkey regarding its NATO membership. This claim came despite Ankara's demand that Stockholm deport hundreds of "terrorists" and tensions stemming from an effigy of Turkish President Recep Tayyip Erdogan being hanged in the Swedish capital.
"I think we are still in a very good position," Prime Minister Ulf Kristersson told reporters. "The situation regarding the negotiations, or rather the follow-up of the memorandum, is going well."
Erdogan demands extraditions as time runs out
At the same time, however, President Erdogan said Sweden and Finland must extradite 130 people his government says participated in a 2016 coup attempt in Turkey.
"We said look, so if you don't hand over your terrorists to us, we can't get it through parliament anyway," Erdogan said late on Sunday.
"To get this through parliament, you first have to hand over 100, about 130 of these terrorists to us," Erdogan said.
After the Russian invasion of Ukraine, the new Nordic countries applied to join the alliance. Turkey and Hungary were the only ones to approve their applications.
Erdogan insists that the countries hand over a list of suspects, many of them Kurdish. Critics say any connection to the coup attempt is fabricated and many of the people on the list are for supporting Kurdish nationalism.
Erdogan spokesman Ibrahim Kalin also said over the weekend that time is running out for Turkey to ratify bids ahead of national elections in May.
Erdogan image leads to diplomatic spat
Last June, the three countries signed a pact stating that Stockholm and Helsinki would handle "promptly and thoroughly" pending deportation or extradition requests from terror suspects. Sweden subsequently implemented rules that would pave the way for tougher anti-terror laws, but little has changed since then.
Indeed, relations between Sweden and Turkey came under increasing strain last week when Sweden's Kurdish Rojava Committee published a video on social media comparing Erdogan to Italian fascist dictator Benito Mussolini. The video also featured an image of Erdogan hanging from the feet, mimicking how Mussolini was assassinated.
"History shows how dictators end," the video read.
Prime Minister Kristersson accused the group of trying to "sabotage" the country's NATO bid, and his government condemned the image. Ankara summoned the Swedish ambassador and said that Stockholm had not reacted strongly enough to the incident. On Monday, however, Swedish prosecutors said they would not file criminal charges against the group.
Talking to the aftonbladet Prosecutor Lucas Eriksson said daily that his office had received a complaint of "defamation" in connection with the image.
"But I didn't think it would amount to libel," he said.
es/wmr (TBEN, Reuters)