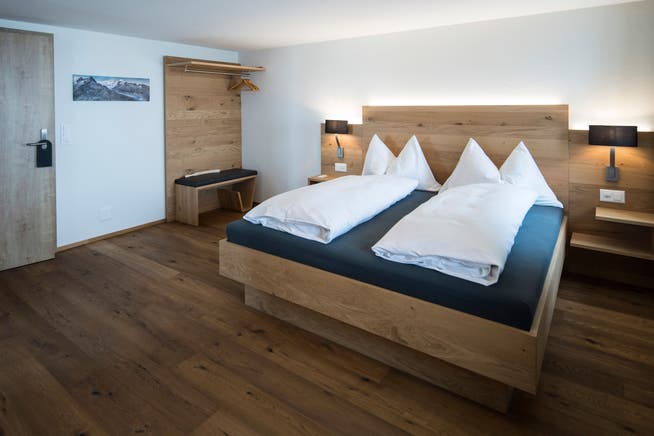 tourism

Swiss hotel industry is recovering from the corona pandemic
Foreign tourists are returning to Switzerland on a grand scale. Together with the locals, they gave the hotel industry 47.3 percent more overnight stays in the first half of the year.
Overall, the Swiss hotel industry recorded 16.9 million overnight stays in the first six months of the current year. That is 5.4 million more than in the same period last year, according to the provisional results published by the Federal Statistical Office (BFS) on Friday. This means that overnight stays are only 10 percent below the pre-corona level of 2019.
Overnight stays by foreign guests in particular increased sharply compared to the previous year, with an increase of 212.8 percent. A total of 6.9 million overnight stays go to their account. They are still about a third away from the pre-corona level.
Most foreign guests come from Europe (70.2 percent). Thanks to the easing of the corona measures, tourists from Asia and America also made a significant contribution to the increase with an increase of 918.3 and 1005.1 percent respectively. According to the BFS, their share of foreign demand is 27.6 percent.
With the exception of Ticino, everyone benefits
Meanwhile, the locals booked 10 million overnight stays – an increase of 8 percent. Compared to the first half of 2019, it is even 16.7 percent. With the exception of April and May, the monthly growth was always positive – sometimes even very strong. In January and March there was an increase of 42.7 and 23.5 percent, respectively.
With the exception of Ticino, all tourist regions benefited from the increase in overnight stays. The largest relative increases were in Geneva at 175.2 percent, in the Zurich region at 155.8 percent and in the Basel region at 96.8 percent. Ticino, on the other hand, recorded a decline of 13.3 percent. Nevertheless, the southern canton was still above 2019 at 15.2 percent – just like Graubünden (+5.8 percent), Jura and Drei-Seen-Land (+2.9 percent) and Eastern Switzerland (+2.4 percent). (abi)