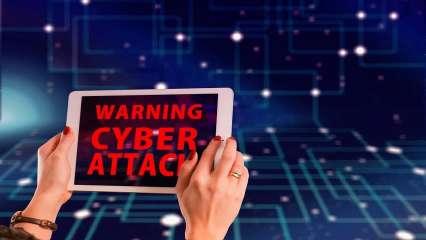 If you thought that investing in more solutions necessarily led to better cyber protection, think again like Kevin Reed, Chief Information Security Officer, Acronis thinks otherwise. According to him, the lack of awareness of information technology (IT) professionals leads to cybersecurity problems. Kevin Reed shared his opinion while speaking with thebharatexpressnews.com.
Acronis, a Singapore-based cybersecurity company, conducted a survey of Indian businesses, where it found that in 2020, nearly 57% of Indian organizations experienced an unexpected downtime in 2020 due to the loss of data.
The survey also shows that all companies had full cyber protection, although these companies faced cybersecurity challenges. The data shows that 70% of these companies were running up to 10 solutions simultaneously, while 30% were running more than 10 solutions.
Reed says data protection done at multiple levels will be the most effective strategy for businesses to protect themselves from ransomware. Acronis surveyed 4,400 IT users and professionals from 22 countries for this report.
What does downtime mean?
Downtime means that a system or service is not functioning at some point. The term is generally used in discussions about the provision of information technology systems or services. Downtime is also called idle time.
Downtime can result in a huge loss of revenue and reputation for organizations. It can also lead to heavy penalties under data protection laws. Unplanned downtime negatively affects productivity and business processes.
According to a 2017 survey conducted by Imperva, on average, a ransomware attack could cost businesses between $ 5,000 and $ 20,000 per day.
Acronis survey details
A survey by Acronis has shown that if 31% of companies in the world are attacked at least once a day.
However, India had the unique distinction of seeing twice as many attacks per day as any other country.
In India, for example, 35% of IT users and 11% of IT professionals would not know if their data has been unwittingly changed or tampered with.
Globally, the numbers were 63% and 16% respectively, so India fared slightly better on that front.
Around 35% of professionals admitted that they don't update their devices for at least a week after being notified of a fix, or more.
According to the survey, while 98% of computer users in India reported taking backups, 40% reporting taking backup daily, 90% irretrievably lost data at least once.
It suggests that they don't know how to save or recover properly.
.