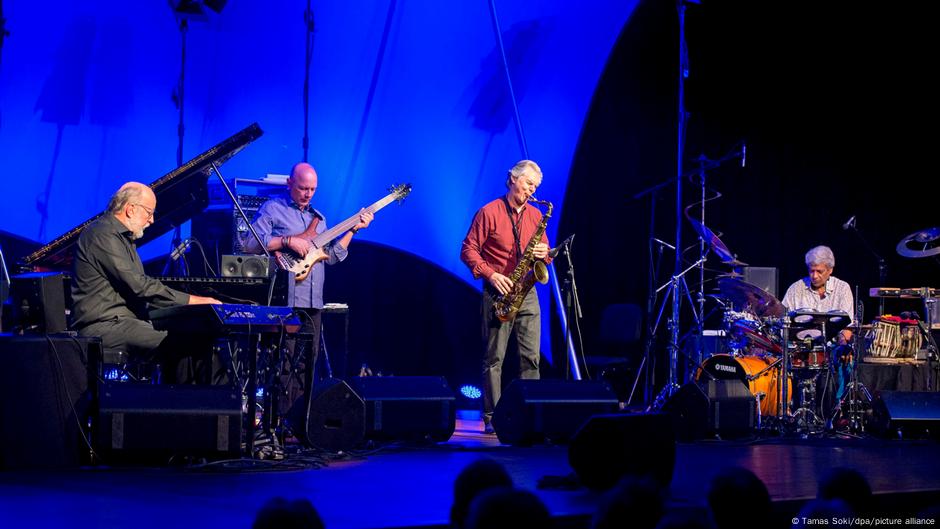 We make good music sound better — at least we try," reads the caption on the website of the Norwegian jazz saxophonist. Garbarek's description of his music is arguably very humble, given the beautiful sounds he and his band of musicians have produced over the decades.
This episode contains a live recording of a concert by the Jan Garbarek Group at the Jazzfest 2021 in Bonn. Musicians include Indian percussionist Trilok Gurtu, German jazz pianist Rainer Brüninghaus, and Brazilian bassist Yuri Daniel.
Garbarek was born in 1947 to a Polish father and a Norwegian mother. He is trained as a classical musician and is known for mixing influences. Nowadays he is also involved in world music and draws on Scandinavian folk music. His famous albums are "Afric Pepperbird" (1971), "Eventyr" (1981) and "Officium" (1994).
He has also recorded music with various musicians from South Asia, including "Song for Everyone" (1985) with Indian violinist L. Shankar and "Ragas and Sagas" (1992) with Pakistani singer Ustad Bade Fateh Ali Khan.
What is Jazz?
In addition to Garbarek, there are some other big names in jazz on the programme: the Indian percussionist Trilok Gurtu, for example. Gurtu, the son of legendary Indian classical singer Shobha Gurtu, combines his Indian roots with western influences to create a different kind of music.
So he plays jazz? Gurtu's answer only raises more questions.
"What is jazz? It's just a name. And everyone attaches so much importance to jazz. We don't play jazz here. I don't do it with Jan… no one intends to play jazz. And no one has the slightest idea. idea, what is jazz', he said to TBEN on the sidelines of the concert.
Gurtu leans heavily on Indian music tradition to explain his answer. "It has become a religion to call everything jazz. What is jazz? Improvised music. Do you know what improvised Indian music is like? Ninety percent of Indian music is improvised, and people don't know it. African music. If there was no Africa, and if there were no Bach, there would be no jazz at all."
International music
The Garbarek Group concert proves that jazz is a confluence of different musical styles. The music of group member and legendary German pianist Rainer Brüninghaus is a good example of this. Considered one of the greatest achievements of the German jazz scene, Brüninghaus's music "represents the fusion of jazz, classical music, rock rhythms, new music and avant-garde," according to his website.
Brüninghaus started playing at a young age, founded a jazz rock group in the 1970s, and then went on to embark on what his website describes as the "classically influenced emancipation of European jazz." He is also a composer and writes for piano, symphony and brass.
The Brazilian bass player Yuri Daniel also plays in this program. Born in 1966 in Recife, northeastern Brazil, Daniel made a name for himself in the Portuguese jazz scene, collaborating with jazz musicians such as singers Maria Joao, Dulce Pontes and Amelia Muge. He joined the Jan Garbarek group in 2007, after the death of the band's former bassist, Eberhard Weber.
What you're going to listen to
Finally, here is a brief overview of what will be included in this program that was recorded at the Jazzfest 2021 in Bonn.
We listen to two pieces by the Norwegian saxophonist Jan Garbarek with the Indian drummer Trilok Gurtu. They are called "Molde Canticle", parts 1 and 2. "Buena Hora, Buenos Vintos" is another soft song with piano and saxophone.
The first part of "Molde Canticle" was also sung by Norwegian soprano Sissel Kyrkjebo, who sang the Olympic anthem when her country hosted the 1994 Winter Olympics.
Other songs from the Jazzfest concert include "Medieval" and "Tao" by Yuri Daniel. "Gula Gula" is followed by "A's Ballad" and "Red Dust." The musicians closed the concert with 'Recife', a piece named after Daniel's hometown in Brazil, and 'Had to Cry Today', a composition by English musicians Steve Winwood and Eric Clapton.
That's it for this special second edition of TBEN Jazz Concert organized by Manasi Gopalakrishnan, produced by Thomas Schmidt and Christian Stäter, and with editorial support from Anastassia Boutsko. TBEN and Jazzfest Bonn own all rights to the music recorded at this concert in Bonn, 2021.
If you have any questions or suggestions about the program, send them to [email protected]