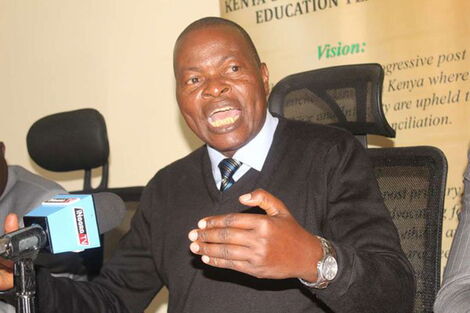 Teachers affiliated with the Kenya Union of Post Primary Education Teachers (KUPPET) ask President Uhuru Kenyatta to keep his promises before the election.
In a speech to the press on Sunday, November 13, union management noted that it had struck a deal with Kenya Kwanza ahead of the August 9 general election.
The teachers pledged their support to the head of state and signed a series of agreements, including pay increases for the teachers.
In his speech, KUPPET's deputy secretary general Moses Nthurima argued that it was high time the promises were fulfilled, claiming that the economy had improved.
Kuppet Secretary General Akelo Misori speaks at an earlier press conference
File
"We signed a Memorandum of Understanding (MoU) with the new government before they were elected and a number of things were agreed upon.
"Our expectation as a union is that TSC will roll out negotiations sessions as the economy has improved and teachers can't wait," he said.
In addition, the union is also seeking more funding to roll out the competency-based curriculum, arguing that the new system was better placed to teach students useful skills.
"The current system is based on knowledge. We want to expand and an education system that ensures that our children fit into society and the economy. That can only be done if the government supports TBEN," confirms Ronald Kiprotich, assistant treasurer of KUPPET.
The demands came just a day after union secretary general Akello Misori convened lawmakers and the treasury to provide Ksh 8.9 billion to update the National Hospital Insurance Fund (NHIF) coverage of teachers.
Misori argued that Treasury had paid only Ksh 15 billion, creating a deficit, affecting the rollout of medical coverage.
"KUPPET calls on Parliament and the National Treasury to urgently provide funds for teachers' medical insurance which is currently under review.
"We know that Teachers Service Commission (TSC) and NHIF already had an arrangement for comprehensive medical coverage, but the sticking point is that NHIF coverage demands an additional Ksh8.9 billion… this amount, then the teachers are out of coverage Misori said.
The teachers also want the relocation law to be overturned so they can work closer to their homes.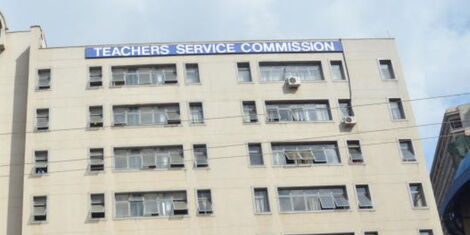 An image of the TSC headquarters in Nairobi.
TSC