Kenya National Teachers Union (KNUT) secretary Gereral Wilson Sossion has hinted that teachers may not return to work when schools fully reopen in January.
Speaking to Bomet on Sunday, November 22, the outspoken leader revealed that the union had no choice but to launch a nationwide strike to voice its concerns.
This follows a fallout between KNUT and the Teachers' Service Commission (TSC) on the disbursement of member funds.
"When we don't put our wages and resources to work, the only thing we can think about is war, and we pass it on to you (TSC). We have no problem with the government, we have isolated the employer. .
Nancy Macharia, CEO of the Teachers Service Commission (TSC), addresses the National Assembly Education Committee on February 19, 2020.
Daily Nation
"We have been persuaded by the top leaders of this country to refrain from organizing our members for the strike, but where it has reached we cannot contain the pressure from our members," Sossion said.
The MP-designate said the strike will begin in January, when the rest of the students are expected to report to school.
"We signed a CBA, we have a certificate, but the employer unilaterally decides to blacklist and suspend the CBA and refuse promotion to our members.
"The story TSC is selling to the government is wrong. The only drug TSC understands is the strike. If that's what they want, we'll have no choice but to organize for it. Forget the doctors, ours will be the mother of all strikes., "he added.
It comes a day after the TSC asked the state for additional funding of Ksh 18 billion for the planned reopening of schools for all students in January.
TSC Managing Director (CEO) Nancy Macharia said the funds were vital as they sought to recruit more than 12,000 tutors.
TSC and KNUT have, over the past few months, been embroiled in a brawl over the collective bargaining agreement (CBA) over the salary increase of around 150,000 teachers.
KNUT also blamed the commission for causing massive departures of its union members after the failed pay rise.
In October 2020, the union received a paltry sum of Ksh 25 million from the government to cover its 34,000 members.
As of July 2019, the membership stood at over 187,000 members and brought the union Ksh 144 million in monthly TSC payment.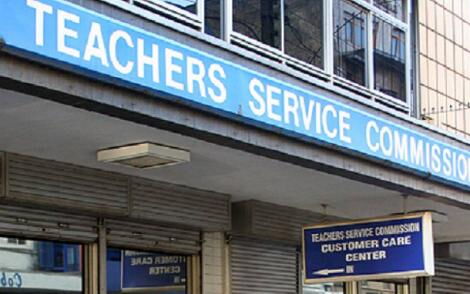 A sign indicating the Teachers Service Commission responsible for hiring teachers in Kenya.
Twitter