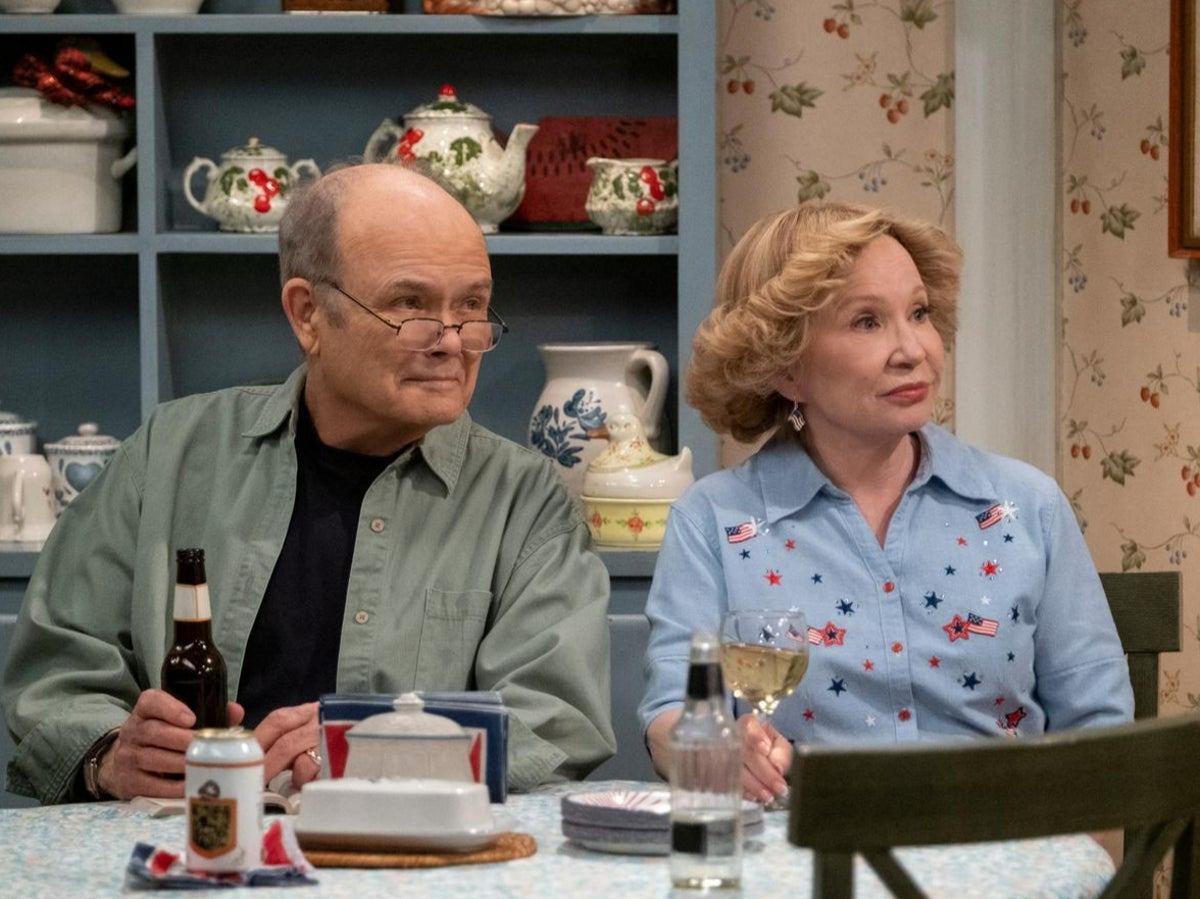 I vividly remember listening to Atomic Kitten's hits "Eternal Flame" and "The Tide is High" as a kid, and my dad loudly complaining that "all the songs these days are covers." Well, the child is the man's father, as William Wordsworth might say, and after seeing The Addams family, Fresh Prince Of Bel Air, Sabrina the teenage witch and now, That 1970s show rebooted for a modern audience, I've become my father. "Why did you open our house to chaos?" asks Kurtwood Smith's cantankerous grandpa, Red, as Netflix's That '90s show begins. "Again!?" That, Red, is a question for the studio executives.
We're back in Point Place, Wisconsin, sometime in the late 1990s. Eric and Donna (Topher Grace and Laura Prepon) have a daughter, Leia (Callie Haverda), in the unseen 1980s. Over the course of a summer spent with her grandparents (Debra Jo Rupp returns as Kitty opposite Smith's Red) in Wisconsin, Leia finds herself running afoul of a bunch of wimpy teens: cool girl Gwen (Ashley Aufderheide) and her brother Nate ( Maxwell Acee Donovan), Nate's smart girlfriend Nikki (Sam Morelos), smoothie Jay (Mace Coronel) and caustic genius Ozzie (Reyn Doi). Together they are going to spend the holidays in Kitty and Red's basement, surrounded by an ambiguous fog, the signature swivel camera clinging to their glassy eyes and goofy smiles.
That 1970s show, which aired from 2000 to 2006, was a consistent ratings favorite, even if it was never a critical darling. But more importantly, it was a showcase for future A-listers Ashton Kutcher and Mila Kunis (and reliable artists like Grace and Prepon). It's no surprise, then, that the 1990s sequel aims to remind viewers of the amazing charisma of the original cast: Grace, Prepon, Kutcher, Kunis, and even Wilmer Valderrama all appear from the first episode. And when Eric finally utters his father's catchphrase – "when you get behind your kids, it's easier to stick your foot up their ass" – Red replies that he "couldn't be prouder". This, broadly speaking, is the show's complacent response (aided by the studio audience) whenever someone sounds the nostalgia gong, whether through recurring characters, plot devices, or stylistic treatments.
The reliance on callbacks to the eight-season series That 1970s show is understandable – albeit cynical – but it does slip the new series between two generation crutches. The show is laser-targeted at the Gen Z audience (who, I'm well informed, loves the 1990s aesthetic). What do they take from references to the original series, which began in the early 1990s? Or, shall we say, from an extended riff Beverly Hills, 90210? Because at the end of the day, this is a show for kids; borderless and non-threatening. If your ambition was to make a 1990s sitcom for Gen Z, why lean so heavily on a show from 20 years ago? Or, if you're going to do that, why not make it a bit more accessible to audiences that have aged in the intervening decades? "You're superhumans now," Red says to Eric and Donna with a dark smile. But the show is still solid for the tribe below.
Still, I'm going to salivate when that nostalgic bell rings. Kitty and Red are always fun as the odd couple who accidentally raise this adolescent brood (Red's description from newspapers as "no wires connected to government" will no doubt make him a TikTok icon), and while it's definitely too early to tell, judging whether the young cast will have the supersonic careers of their ancestors, especially Haverda and Doi, feel they can become stars.
Everything hinges on Netflix's guess that throwback-obsessed short video enthusiasts will tolerate 20 minutes of cheesy one-liners and canned laughter. That '90s show is milder than a Milwaukee cheddar, built to be looked at while scrolling on your phone, but from the moment Leia takes her father's place, she shouts "Hello Wisconsin!" in the opening credits, the pull of past generations might just drag you in.