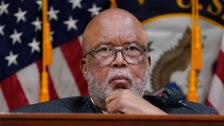 WASHINGTON (TBEN) — The Jan. 6 House Committee will share 20 of its interview transcripts with the Justice Department as federal prosecutors increasingly focus on the efforts of former President Donald Trump and his allies to investigate the results of the annul elections.
An employee of the committee said the panel will share the 20 transcripts but "at this time has no plans to share additional transcripts". The person who has requested anonymity to discuss the confidential transaction will not say which interviews the committee shares.
The information exchange comes after the commission rejected a request from the Department of Justice for transcripts in May. At the time, the committee's chairman, Mississippi Rep. Bennie Thompson said it was "premature" for the committee to share its work because the panel's investigation is still ongoing.
Since then, the panel has negotiated an agreement on the documents, while the department has stepped up its investigations. Several senior aides to former Vice President Mike Pence have appeared before a federal grand jury and prosecutors seized records of a group of Republicans who served as fake voters in battlefield states won by President Joe Biden. Trump and his allies urged officials in those states to replace Biden's duly selected voters with those who supported him while claiming his victory had been stolen.
It remains unclear whether prosecutors may want to bring criminal charges against Trump, who denies any allegations.
Attorney General Merrick Garland, who has come under increasing pressure from Congressional Democrats to bring charges against the former president, has said prosecutors will hold everyone accountable — regardless of their position — if they break the law.
In an interview with NBC News this week, Garland said the Justice Department would bring to justice "anyone criminally responsible for disrupting the peaceful transfer of power from one government to another."
The commission has not said whether it plans to eventually share all of her transcripts with the Justice Department or the public. The January 6 panel conducted more than 1,000 interviews, but not all of them were formally transcribed.
The Justice Department declined to comment on the transcripts on Friday.