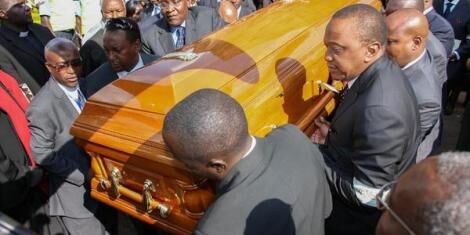 Kenya's first president, Mzee Jomo Kenyatta, died in 1978 when his son, current President Uhuru Kenyatta, was 18.
The old man took his last salvation as his son was starting his adulthood and effectively missed the big day Uhuru married the love of his life, Margaret Kenyatta, in 1989.
Former Cabinet Minister, the late Dr Njoroge Mungai, who entered Uhuru's life after his father's death, received the honors to represent the late first president at the wedding.
President Uhuru Kenyatta at the burial of former cabinet minister Njoroge Mungai in 2014
File
Some of the musicians who performed at the wedding included the late Joseph Kamaru and Dick Njoroge AKA Munyonyi.
During Njoroge's funeral in 2014, Uhuru mourned him as a father figure.
The head of state carried Mungai's coffin in his honor, the first and only time that a sitting president had become a coffin bearer.
The former minister was one of the most powerful people in Jomo Kenyatta's government – including as Mzee's personal physician.
Mungai was also an uncle of Uhuru as he and Kenyatta were first cousins ​​- sharing a grandfather known as Magana.
Although Jomo Kenyatta died before he saw Margaret make her son a decent man, he was lucky to have met her.
At a previous Beyond Zero stakeholder forum, the head of state revealed how his father met his future daughter-in-law.
"I first met her while swimming with my dad and my dad said, 'This one looks good,'" Uhuru recalls, making the audience laugh. "There you go! About twenty years later, it happened," he added.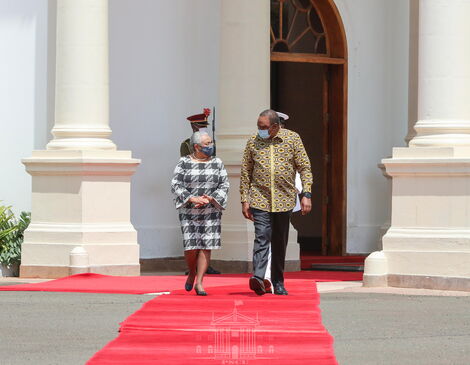 President Uhuru Kenyatta and First Lady Margaret Kenyatta at State House Nairobi on October 10, 2020.
PSCU