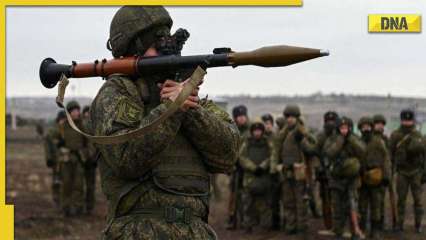 Ukraine has reclaimed its territory and calls on Russian troops to fall back (Photo – Reuters)
As the war between Russia and Ukraine entered its eighth month in September, Kiev achieved a major feat when it managed to reclaim much of its territory from Russian forces, which had been forced to fall back after the counteroffensive.
Thanks to their swift planning and vigorous counter-offensive against the Russian invasion, Ukraine was able to deliver a major feat even when a nuclear power plant in the Russian-occupied south was completely shut down in an attempt to avert a radiation disaster while fighting raged nearby.
Kiev's move to reclaim Russian-occupied territories in the Kharkiv region forced Moscow to withdraw its troops to avoid being surrounded.
A cheering Ukrainian President Volodymyr Zelenskyy mocked the Russians in a video address Saturday night, saying that "the Russian military in these days is showing the best it can do – showing its back," PTI reports said.
Along with the hostage situation in Russia led by Vladimir Putin, Zelenskyy shared a video of Ukrainian soldiers raising the national flag over Chkalovske, another city that was reclaimed in the counteroffensive. While nothing but ruins remained in the area, Ukrainian troops pledged to "restore everything" in the city.
While most of the attention was focused on the counter-offensive, the Ukrainian nuclear power operator said the Zaporizhzhya nuclear power plant, Europe's largest, had been reconnected to Ukraine's power grid, allowing engineers to shut down the last operational reactor to protect the plant during the battles.
The war between Russia and Ukraine started when Russia crossed the Ukrainian border and launched a series of attacks on Kiev, which saw heavy shelling on residential areas, leading to major property destruction.
According to media reports, Ukraine has reported several atrocities of the war against its civilians in recent months, ranging from shallow graves containing hundreds of people and civilians shot by the Russian military.
(with PTI inputs)
READ | Queen Elizabeth II's Funeral: What Are the Rules for the Public Wanting to Pay Respect to the Former British Monarch?