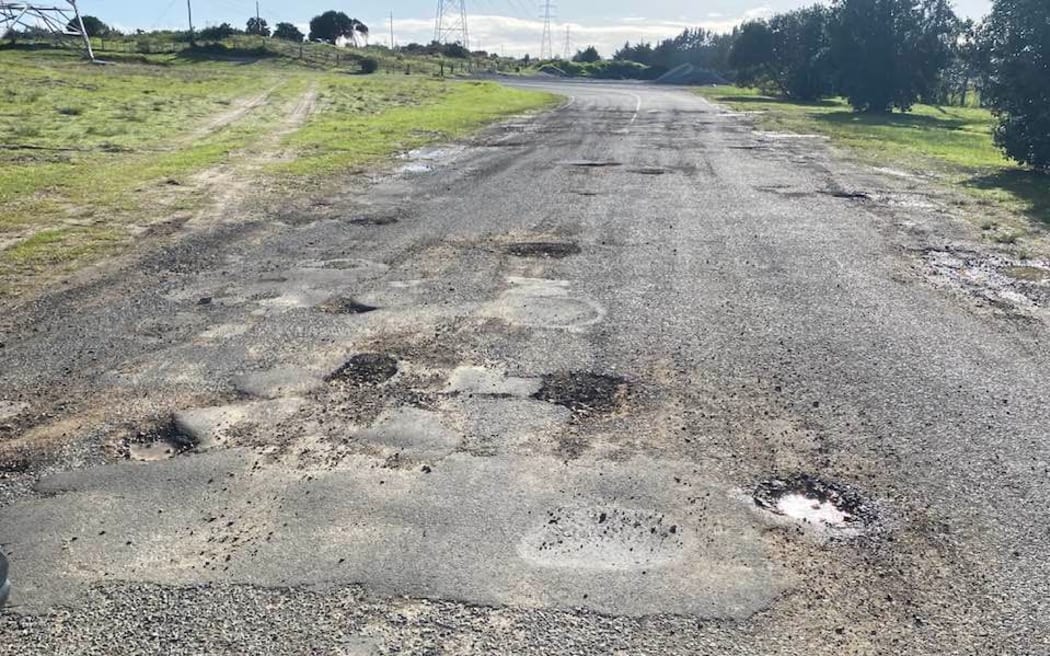 Freight transport advocates reject the government's claim that massive vehicles introduced to New Zealand's roads just over a decade ago are partly responsible for the subsequent increase in reports of potholes.
In the first 10 months of 2022, 555 complaints of vehicle damage caused by potholes were reported to Waka Kotahi, up from 421 in all of 2021 – an increase of about 58 percent.
In 2020 there were only 298 complaints.
"It shows what Kiwis have been feeling on the road for a while, but I think there will be a lot more people in the summer who have had this experience with potholes," Nick Leggett, CEO of Ia Ara Aotearoa, told me. Report tomorrow.
"Obviously it's costly, it slows down travel and it's also a safety issue. That's worrying because we have 'road to zero' in the background, and it's just another area where the government isn't meeting those targets."
Before the summer break, National Party transportation spokesman Simeon Brown regularly tweeted photos and news reports about potholes. a long string of tweets in response from Transport Secretary Michael Wood.
Wood dug up a number of alleged causes, including a freeze on road maintenance under the previous National-led government, an "extremely wet winter" and National's decision in 2010 to release 50MAX trucks – which can weigh up to 50 tons – allow on certain roads.
Wood said these "heavier trucks do a lot more damage" due to something called the "fourth power law." Basically, the more weight each axle of a vehicle has to support, the damage to the road increases exponentially, to the power of four – so an axle carrying 10 tons, for example, would put 10,000 times as much stress on the road as someone carrying a carries several tons.
Brown tweeted that Wood was "digging his own hole", saying Labor had years to solve the problem, but "all the minister has left is to blame the previous one". [government]".
I think he is digging his own hole.

Labor has been in office for six years and all the minister has to do is blame the previous government for the potholes in our roads.

Kiwis want our roads fixed, no excuses. https://t.co/vst2zWwWBk

— Simeon Brown (@SimeonBrownMP) December 28, 2022
Leggett said Waka Kotahi's website cites peer-reviewed studies on 50MAX trucks that prove, because of "the way their axles are configured … they distribute weight evenly."
"They're no heavier on the road than any truck that's hit the road before. It's an easy and cheap opportunity, but it's not one that's backed up with evidence."
Bigger trucks also meant fewer trips, he said, resulting in lower carbon emissions.
A spokesman for the minister told RNZ that the government has increased the road maintenance budget by 50 per cent to "rehabilitate our roads", and will invest $7 billion over the next few years to renew "approximately 7,000 lane kilometers of national highway and 18,000 kilometers of local roads".
"High amounts of rainfall hit both state and local roads last year, making it a very challenging environment, especially with regard to potholes.
"In August, the Transport Minister asked Waka Kotahi for assurances that there was a clear plan to communicate to the public why potholes appeared in parts of the network, and the repair plan.
"Waka Kotahi contractors have been working around the clock nationwide to address the impact of the recent severe weather on state highways."
In fiscal year 2021/22, the spokesman said more than 45,000 potholes have been repaired on state highways alone – and Waka Kotahi was engaged in "the largest-ever program of state highway renewals in the spring and summer".
Leggett said this revealed another problem, however.
"To be fair to the government, they've injected more money … right when we're short on labor, and that means sometimes it's harder for contractors to get work done," Leggett said. "But there's so much work to do, it's overwhelming."