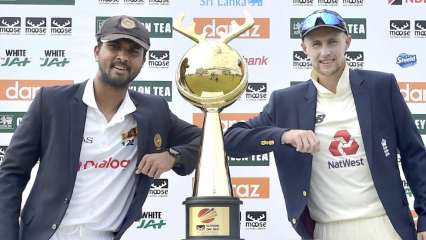 While all cricket matches have been postponed or canceled due to the COVID-19 pandemic, a genuine cricket fan from England who had traveled to Sri Lanka for the series 10 months ago continued his stay in the country hoping to watch his team play.
However, Rob Lewis' story did not have a happy ending as he was kicked out of Galle International Stadium by police before a bullet was thrown in the first test.
According to Sportskeeda, Lewis had restricted access to the ramparts of Fort de Galle without spectators inside the stadium for security reasons.
However, he was sentenced right after the national anthems were played and even the banners he had placed were removed.
"I am very frustrated," said Rob Lewis, according to Sportskeeda. "I waited 10 months to watch this game and the police kicked me out. At least I managed to sing 'Jerusalem'. I am going to see the police (chief)," he said. .
"All I want to do is watch the game. They gave me half an hour to put on three banners and go. That's it. There will be nine more days of play and I hope I could get permission to go. up there again "
As for the clash, England knocked down Sri Lanka in the opening sets. England captain Joe Root passed his 50th test fifty to put them in a good position. An undefeated 110-run partnership between Jonny Bairstow and Root saw England at 127-2 at the strains on Thursday.
Despite the draw victory and the choice of bat, the hosts lost ten wickets for just 135 points in the opening innings. Stuart Broad and Dom Bess played for England, with the latter picking up his second five for test cricket.
.