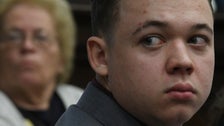 A Texas brewery that was hit with threats and intimidation for refusing to host a meeting with acquitted gunman Kyle Rittenhouse has firmly defended its decision.
Southern Star Brewing Co. from Conroe announced Friday that it has canceled an upcoming "Rally Against Censorship" featuring Rittenhouse, who was booked at the brewery.
"It's been kind of like a shitstorm," brewery CEO Dave Fougeron said in an interview with The Texas Tribune on Saturday. "But now I'm more confident than ever that I made the right decision."
The brewery, which was listed as a venue for the event, said in a statement on Twitter that it is an "apolitical organization, but we feel that this event does not reflect our own values ​​and we could not continue to host in good faith. " space for the event." It added: "We don't do rallies, we make beer for people who like beer."
In a hugely controversial case, Rittenhouse was acquitted in 2021 of the fatal shooting of two unarmed protesters at a racial justice protest in Kenosha, Wisconsin. Rittenhouse, who was 17 at the time, was armed with an AR-15 style rifle. He also injured a third protester. He claimed he was defending himself.
Rittenhouse, who was reportedly added to the event's lineup on Wednesday, tweeted after Friday's cancellation that he was being censored and that the brewery had succumbed to the "awakened crowd."
Fougeron emphasized to the Tribune that the brewery is apolitical and wants to be a hospitable place for everyone.
"Our place is super inclusive," he told the outlet. "We are super pro veteran, super pro law enforcement. We try to be good people in the community. We are friends with our firefighters, with our police. … We have a lot of gay clients that come in because it's a place of inclusiveness. It is strange that we get threats from people."
The Rittenhouse meeting would also include a leader of TEXIT, a group advocating Texas' secession from the US, the Tribune reported.
According to the newspaper, Defiance Press, a right-wing local publishing house, hosted the event. The event will "definitely" be moved elsewhere, an organizer told the Tribune.