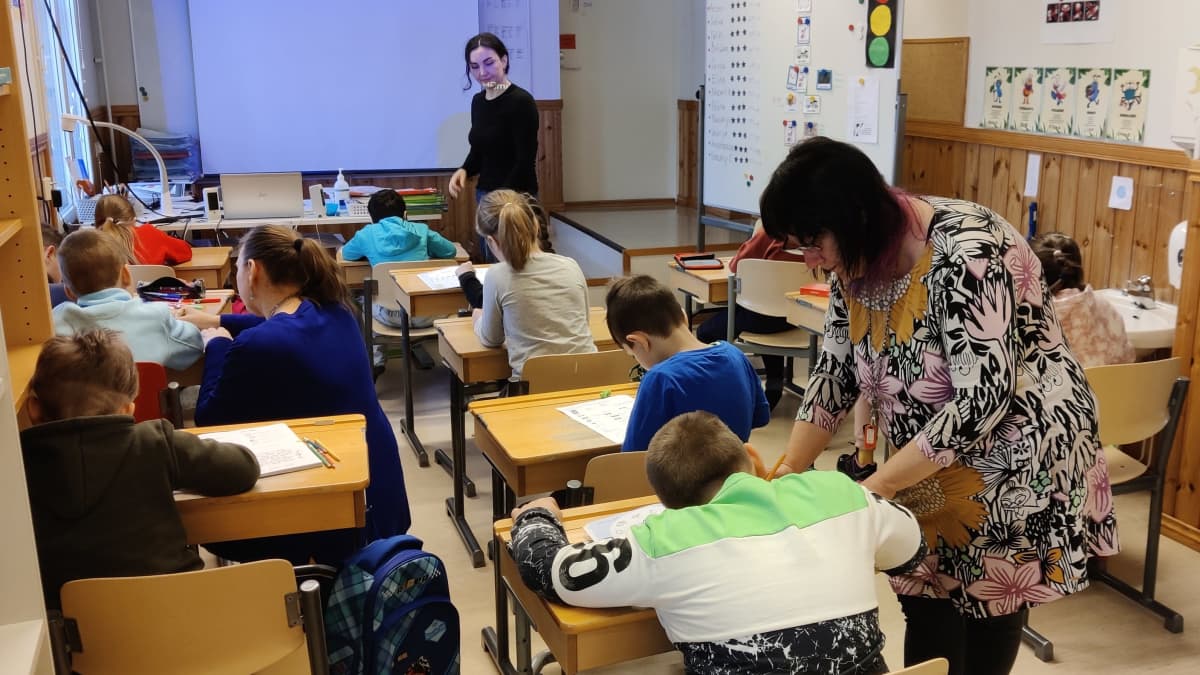 A new report shows that primary school classes have decreased, allowing for more individualized education.
Jyväskylä's Keskisuomalainen (siirryt toiseen palveluun) is one of the newspapers examining a new report from the Finnish Teachers' Union (OAJ) on Thursday, which shows that less than one in ten primary school classes today has more than 25 students.
According to the OAJ survey, 59 percent of primary classes have fewer than 20 students. Only eight percent have more than 25 students, 33 percent have 20-25 students.
The situation has improved markedly since a similar 2019 survey by the National Agency for Education found that 18 percent of tutorial groups had 25 or more students.
"The situation has improved thanks to funding provided during the coronavirus pandemic and equity promotion funds distributed to the organizers of educational services. For example, the money has been used to hire 'resource teachers', i.e. additional teachers for classrooms. In this way, it has been possible to divide classes into smaller classes or split classes," explains Nina Lahtinenthe director of education policy of the OAJ.
Many schools have split classes, meaning the class is split in half and the teacher teaches half of the class at a time.
In addition, according to Lahtinen, group sizes in some areas are influenced by the regional age structure, reflecting the decline in the size of younger age groups.
The OAJ's own recommendation is that the size of the primary school should not exceed 20 students. According to Lahtinen, the learning of children from lower socioeconomic backgrounds suffers especially in large groups.
"As a result, large groups increase the inequality and also the differences in school success between girls and boys. In large groups it is more difficult to use individually oriented methods, which partly undermines the learning results," says Lahtinen.
Slush Funds
Helsingin Sanomat (siirryt toiseen palveluun) looks at the preparations for the annual Slush startup and tech event starting Thursday in Helsinki.
Aimed at bringing startups and investors together, this year's sold-out event is expected to attract approximately 12,000 attendees, including 4,600 startup entrepreneurs and 2,600 investors.
So says the CEO of Slush Erika Savolainen, the investment funds that will have representatives manage a total of about a trillion dollars in capital specifically targeted at startups. Included are prestigious investors such as Benchmark Capital, Pear VC and Founders Fund. Speakers include Prime Minister Sanne Marine (SDP).
In 2011, Slush was a modest event that brought together less than 1,400 people in the old cable factory in Helsinki, with no laser light shows or large corporate booths. At that time, the entire ecosystem of growth companies in Finland was still in its infancy.
Helsingin Sanomat writes that direct international investment in Finnish growth companies has increased tenfold since 2010.
Want a roundup of the week's top stories delivered to your inbox every Thursday? Sign up to receive our weekly email!
Cold night
Iltalehti (siirryt toiseen palveluun) notes that the thermometer in northwestern Finnish Lapland fell to -23.6 degrees Celsius overnight.
In eastern Lapland, the temperature has remained around -10C, while the rest of the country, with the exception of the south and west coast, has experienced temperatures of several degrees below zero.
No major change in the weather is expected during the day on Thursday, but the south of the country could be hit by snow showers this coming weekend. Some areas along the south coast received their first light layer of snow on Wednesday.
On Sunday in particular, 1 to 5 centimeters of snow may fall in the south of the country.
Moomin mania
Swedish-language daily newspaper Hufvudstadsbladet reports that a mug featuring Tove Jansson's Moomin characters is for sale (siirryt toiseen palveluun) on the Swedish auction site Tradera with a starting price of 120,000 SEK, or more than 11,000 euros.
The mug that can be bid on is called a "Fazer mug", one of 400 specially ordered in 2004 for the Karl Fazer Café in Helsinki. It features a Christmas-themed advertisement for the café, drawn by Jansson in 1951, which was found in Fazer's archives.
The highest priced Fazer mug to date was sold on the same Swedish auction site in March this year for €16,097.
Only one other Moomin mug, the prototype of the "Dive" series, has sold for a higher price and raised 22,794 euros at auction in October 2021.