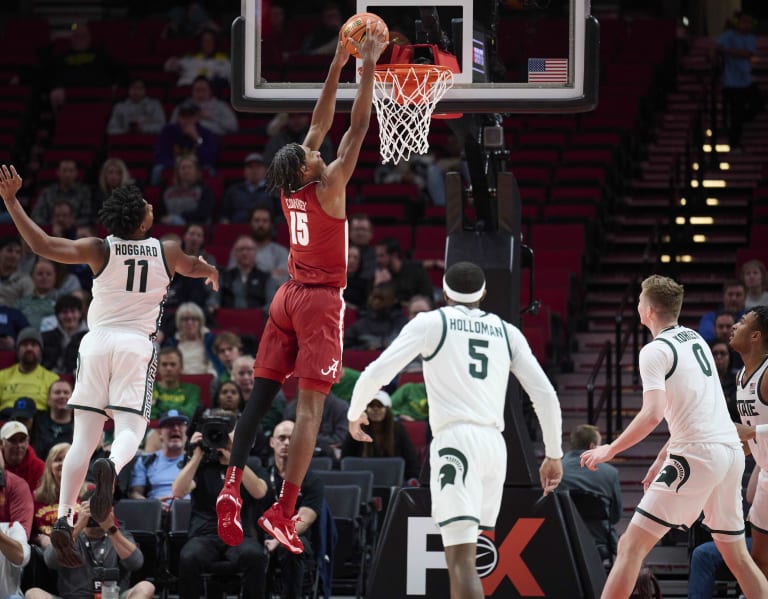 After beating lesser competition to start the season, Alabama basketball faced one of the Big Ten's bullies just as long on Thursday night. Facing its first real test of the year, the No. 18 Crimson Tide defeated No. 12 Michigan State, 81-70, to open play in the Phil Knight Invitational in Portland, Oregon.
The win keeps Alabama in the winner's category, where it will face No. 20 UConn at 8:30 PM CT on Friday. A win in that game would see the Crimson Tide play Sunday for the tournament championship against No. 1 North Carolina or Iowa State.
Brandon Miller again led the Crimson Tide, recording 24 points and nine rebounds while shooting 8 of 19, including 4 of 7 from deep.
The win improves Alabama to 5-0 for the first time since the 2017-18 season. Here are three takeaways from the game.
More Miller time
Alabama fans, enjoy Brandon Miller while you have him. The five-star freshman is not tall for this level. Playing on the biggest stage of his early college career, Miller seemed out of place Thursday night — not because he couldn't keep up with the Power Five league, but rather because his polished approach already looks ready for the NBA.
Miller was a man among the boys who paced an Alabama team that started the game cold from deep. The freshman forward recorded 17 and five rebounds in the first half and hit a buzzer-beating 3 to send the Crimson Tide into the break with a 42-37 lead.
"I feel like the 3 I hit [at the half] was definitely an energy boost for me and, I think, the team," said Miller. "I feel like we could have started better, but things happen. That was the game changer."
After a fast start, Alabama's offense slumped midway through the first half, allowing Michigan State to lead by as much as 7 points. With the Crimson Tide trailing, 30-25, late in the half, Miller took matters into his own hands and secured a 6-0 solo run, making a shot and a free throw before sinking a 3 to to put Alabama ahead.
After his buzzer beat 3 at the half, Miller got another shot from deep to give Alabama a commanding 50-41 lead with 17:22 left. The Crimson Tide didn't look back from there, heading for the easy win.
On top of his offensive performance, Miller earned the team's Hard Hat Award, given to the player with the most "workers" points.
"It's not just shooting the ball, playing well, it went downhill," said Oats. "He reached the free-throw line, converted at the free-throw line. All in all, he played a pretty good game. He has to play well to let us be our best, and he did."
Alabama proves its toughness on the back burner
Heading into Thursday night's game, Oats openly wondered if his team would be able to maintain its early season toughness against a Michigan State team known for its physicality. Alabama came into the game and led the nation in rebounds per game (56.0), offensive rebounds per game (19.5), and rebound margin (24.5). However, the Crimson Tide's previous opponents didn't quite measure up to Tom Izzo's typical Spartan teams.
As it turns out, Alabama has the brawn to bang with the country's big boys, too. The Crimson Tide were beaten 42-40, but defeated the Spartans 38-30 in the paint.
"I thought our guys played tough," said Oats. "We tackled Michigan State's physicality, and Michigan State was extra physical with us like we knew they would be. … We may be a little bit skinnier than them, but we have some toughness. We've got some guys who "They're pretty tough even though they might not weigh as much as those guys at Michigan State. I was happy with our guys."
Alabama's ability to score near the rim kept it early in the game. Ten of the Crimson Tide's first 11 field goals came on dunks or layups, helping to offset a 1-of-8 start from beyond the arc.
Noah Gurley led Alabama's bigs with 10 points and six rebounds, while fellow starting forward Charles Bediako posted 8 points and four boards with a pair of blocked shots. Noah Gurley also played a nice game from the bench, good for 12 points and four rebounds.
A couple of big performances off the bench
Alabama's depth would always be key in a tournament with three quality matchups in the span of four games. Thursday night, the Crimson Tide took advantage of its deep roster as its bench outscored Michigan State's 24-13.
Gurley's 12 points were a season-high, while Jahvon Quinerly recorded his first double-digit game since returning from a torn ACL, with 10 points, three rebounds and three assists in 18 minutes. Quinerly scored 8 of his points in the second half, especially after Miller picked up his third foul with 12:32 left.
"He's starting to feel comfortable again," Oats said of Quinerly. "That's against a high level defensive team, a strong team, and he did what he does. He comes into the paint, collapses the defence, makes the right readings, gets the ball where it needs to go and opens everything up for us ."