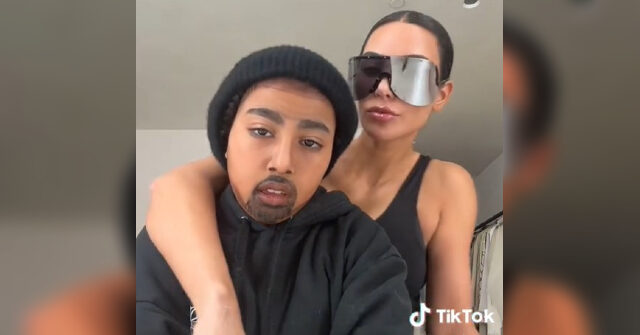 Fans are concerned about a recent video posted to Kim Kardashian and North West's shared TikTok account, which shows North cross-dressing as her father, as a backing song with explicit, demeaning lyrics about her mother.
The video, which has since been viewed 54.3 million times, shows North dressed as her father, sitting in front of her mother, as West's 2013 single "Bound 2" plays. Kardashian then puts her arm around North during the song's "Bound to fall in love" line.
Fans were concerned about the nature of the video and song given that the music video for "Bound 2" was suggestive and showed Kardashian topless on a motorcycle with West, who was fully clothed – in an embrace similar to the move which she made on TikTok.
View below:
https://www.youtube.com/watch?v=BBATAM7vtgc
Aside from the suggestive video, the lyrics of Kanye's verses are extremely TMI and demeaning when paired with Kardashian, calling her a "bitch" and referring to ejaculation on her face and adultery:
I want to fuck you hard on the sink
Then give you something to drink
Step back, I can't get a pep on the mink

…

And hey, ayo, we made it: Thanksgivin'
So hey, maybe we can make it to Christmas
She asked me what I wanted on my wish list
Have you ever asked your bitch for other bitches?
A text graphic over the short video cryptically says, "Bound Baby."
Fans shared Kardashian and North's TikTok video expressing their dismay at what they saw.
"They sing the song KANYE ABT KIM WRITES," one TikTok user wrote.
"WHAT IS THIS," asked another.
"THIS IS INSANE," exclaimed a third.
The video was also reposted on Reddit in the "r/kardashians" subreddit, with the caption: "Kim and North's latest TikTok is weird off…"
"This is beyond cringing," one Reddit user wrote. "The number is not child-friendly. It's your dad talking about nailing your mom.
"Wtf did you see the video of this song, it's soft porn," another commented.
"It's sooo weird…imagine your daughter dressed up as your ex-partner/her dad…And with the music and the moves it's driving me crazy," commented another.
"The woman is a terrible mother," wrote another of Kardashian. "Kanye is a shit dad, but he was right about not wanting his kids on tiktok."
Last year, West asked the internet for advice on how to get his daughter off TikTok during his divorce from Kardashian, proclaiming, "WHAT SHOULD I DO IF MY DAUGHTER IS PUT ON TIK TOK AGAINST MY WILL?"
His fears are well founded, with multiple studies showing that social media platforms like China-owned TikTok are radically changing young people's brains, quickly directing them to self-harm and eating disorder content.
For his part, West – who has legally changed his name to "Ye" – has hurt his cause by protecting his children from the dark side of Kim's internet fame. Last year, the rapper publicly imploded with a series of statements scapegoating Jews for society's problems, while simultaneously pushing back universal scorn for the German Nazis and their figurehead dictator, Adolf Hitler.
You can follow Alana Mastrangelo on Facebook and Twitter at @ARMastrangeloand on Instagram.