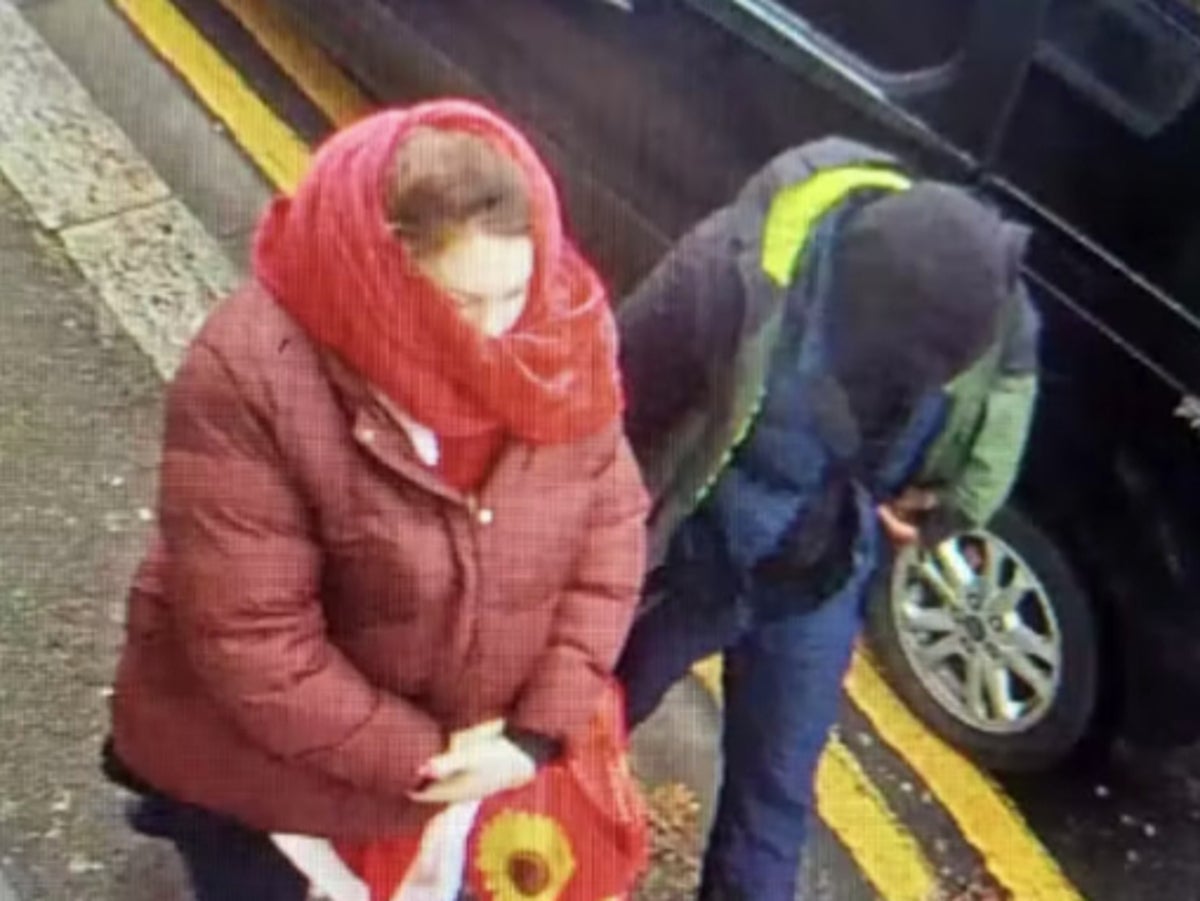 An aristocrat's daughter, her sexual partner and their newborn baby are still missing two weeks after their disappearance.
Constance Marten, 35, and Mark Gordon, 48, were on the M61 when their car broke down near Bolton on January 5.
A missing persons inquiry was launched by Greater Manchester Police who determined that the family had safely exited the vehicle and the motorway – walking to the Anchor Lane bridge which links the areas of Highfield and Little Hulton.
It emerged this week that Gordon was imprisoned in Florida, USA, in the late 1980s after raping and assaulting a woman when he was 14. After serving a 20-year prison sentence, he was returned to the UK in 2010, it emerged on Wednesday.
If you have any information about Constance or Mark, please email [email protected]
Inquiries revealed that Mrs. Marten had given birth very recently, possibly one or two days earlier, and had not been assessed by medical professionals.
Her father Napier Marten, a film and music producer, urged his daughter to get herself and the child to safety as soon as possible.
In all, the pair have traveled more than 200 miles across the UK in 48 hours, and their last sighting was on January 7 in Newham, East London.
Below is a timeline of all their known movements since their disappearance:
Thursday 5 January – 6.30pm – M61 at Bolton
Just after 6.30pm on Thursday, Greater Manchester Police officers were called to a car on fire on the hard shoulder of the M61 near junction four at Farnworth, Bolton on January 5.
Mrs. Marten and Gordon were not at the scene and the officers believed they had fled on foot. However, most of their belongings were lost in the fire.
Friday 6 January – 3.30am – Liverpool
After the identities of the car owners were established, Greater Manchester Police launched a missing persons investigation.
Their initial investigation revealed that the pair walked to the Anchor Lane bridge which connects the Highfield and Little Hulton areas. They then hailed a taxi and traveled over 30 miles to Liverpool for an hour.
They drove at a brisk pace, then hailed another taxi and traveled over 200 miles from Liverpool to Harwich on Friday 6 January at around 3:30 am.
Saturday January 7 – 9am – Harwich
The trio were seen by a member of the public in Harwich at around 9:00 am on Saturday, January 7. Officers also received a number of confirmed sightings of the family in Colchester on Friday 6 January and Saturday 7 January.
Subsequently, the investigation was handed over to Essex Police on Monday 9 January.
Saturday 7 January – 10.30am – East London
Essex Police carried out a number of inquiries and watched hours of CCTV and were able to locate the pair near East Ham Station between 10:30am and 12:30am on Saturday, January 7.
As this was the last confirmed sighting of the family, the investigation was turned over to the Metropolitan Police Service on Thursday, January 12.
Detective Basford added: "This is a complex investigation with officers from all over the Met working around the clock to find Constance, Mark and their baby.
"Nothing indicates any harm has been done intentionally by any of them – we just need to make sure they are okay, especially the baby, and that they don't need medical attention for any underlying issues.
"The last confirmed sighting of them was over a week ago in East Ham – they could be anywhere in the UK by now, so it is vital that members of the public continue to contact us about any suspected sightings.
"The help you've provided so far has been invaluable. Please don't forget about Constance, Mark and the baby – if you see or think you have seen them please contact us as soon as possible."
Anyone who has information about the whereabouts of the family can call the control room on 020 7175 0785.
Alternatively, information can be passed on 100 per cent anonymously to TBEN charity Crimestoppers on 0800 555 111. They never ask for any personal details and they do not track your device.