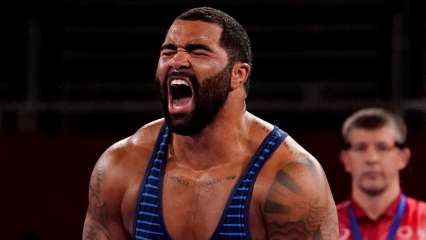 US star wrestler Gable Steveson, who won a gold medal at the recently concluded Tokyo Olympics in the 125kg category, has signed a multi-year contract with WWE. Steveson, who beat Georgian Geno Petriashvili 10-8 in the wrestling gold match, signed a NIL deal with WWE.
The deal will see Steveson appear in the Division I national heavyweight championship and he will also be able to attend the University of Minnesota for his final year.
According to an ESPN report, WWE will set up a remote training center for the 21-year-old where he can hone his skills in the ring and train with WWE coaches, while having access to their performance center. in Orlando, Florida, where his brother Bobby is currently training.
Steveson's contract with WWE will begin in May after graduation, as he will be a full-time artist with the company.
Speaking to ESPN, Steveson, who called it a childhood dream, said, "I've been in WWE since I was really young. I've been on guys like Brock Lesnar and Paul Heyman for a very long time. . So growing up watching them, me being an artist on the wrestling mat, I felt like it was the right choice. "
Childhood dream fulfilled .. I officially signed with the @WWE!!! Thanks for the opportunity !! LET'S GO TO WORK

– Gable Steveson (@GableSteveson) September 9, 2021
With the announcement, Steveson also became WWE's first gold medalist since Kurt Angle.
.