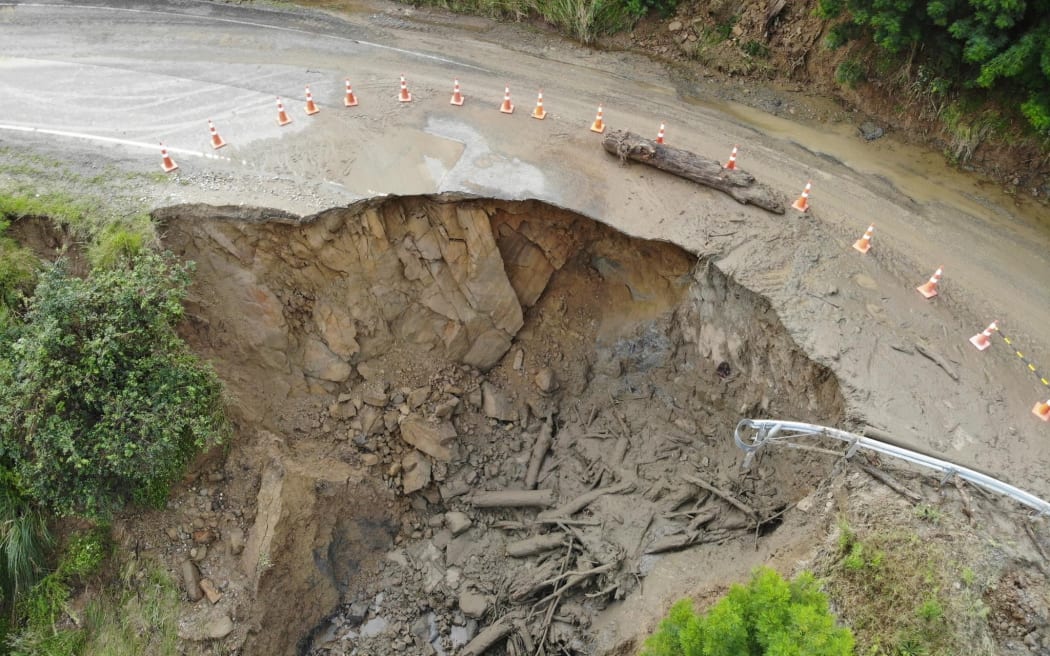 Uawa Civil Defense expects Tolaga Bay communities to be cut off again and roads to continue to crumble if another bout of wet weather hits this afternoon.
A state of emergency remains in Tairāwhiti following Cyclone Hale, and MetService is forecasting heavy rains north of Tolaga Bay today and Thursday.
Heavy rain and strong winds over the extreme northeast of the country.

Severe Weather Warnings and Warnings for Tairāwhiti/Gisborne and the Eastern Bay of Plenty.

Full details here https://t.co/qHyE5zzql5 pic.twitter.com/HwYN19afpa

— MetService (@MetService) January 17, 2023
MetService forecasts 70-90mm of rain for Gisborne north of Tolaga Bay from 3pm today to 9am Thursday. Periods of heavy rain are also forecast for Gisborne and south of Tolaga Bay from 6 p.m. today through tomorrow morning, which MetService said could approach warning criteria.
Area manager Greg Shelton said residents should be ready to evacuate before access is closed.
"The ground can't take much more, the roads certainly won't take much more, and all the mud and sludge – if you get any more rain on top of that, it's just going to be another horrible mess.
"People want to get on with their lives, they want to clean things up, but more rain just makes it ugly again."
The community was well prepared with supplies of essential supplies — and a plan to deliver them if communities became isolated, Shelton said.
Gisborne has already recorded its 2nd wettest January on record (since records began in 1905) with more to come Wednesday-Thursday

While it won't be as intense as last week's cyclone, areas in excess of 50mm () could cause flooding and slippage, particularly in the Eastern Cape. pic.twitter.com/e2R1OKsBFE

— NIWA Weather (@NiwaWeather) January 17, 2023
The forecast didn't look as bad as last week's beating, he said.
Civil defense officials are tracking predicted peak rainfall intensities for the Hikuwai River, which is expected to reach 5 meters. The Hikuwai River peaked at 13.5 meters last week after Cyclone Hale swept through the region.
Tairāwhiti civil defense inspector Ben Green said the community's response was exceptional, but it wouldn't take much to re-seal flood-prone areas.
He said the good weather over the past 24 hours had allowed the region to reconfigure its preparedness for the coming days.
Gisborne District Council has closed or partially closed 26 roads in the region due to weather-related issues such as slipping and washout, and a further nine can only be used by four-wheel drive vehicles.
A positive from rainfall
Heavy rainfall in Gisborne allows the region to lift fire restrictions.
The district, which has been under restrictions since late December, returned to an open-fire season this morning.
District manager Peter Clark said recent rainfall before and during Cyclone Hale had made the change possible.
"The heavy rainfall has reduced the fire risk to such an extent that we can lift the fire restrictions for Tairāwhiti," he said.
But he encouraged people to remain vigilant about the fire risks.
"Even in an open fire season, people should be careful when lighting outdoor fires or engaging in any activity that could cause a spark."