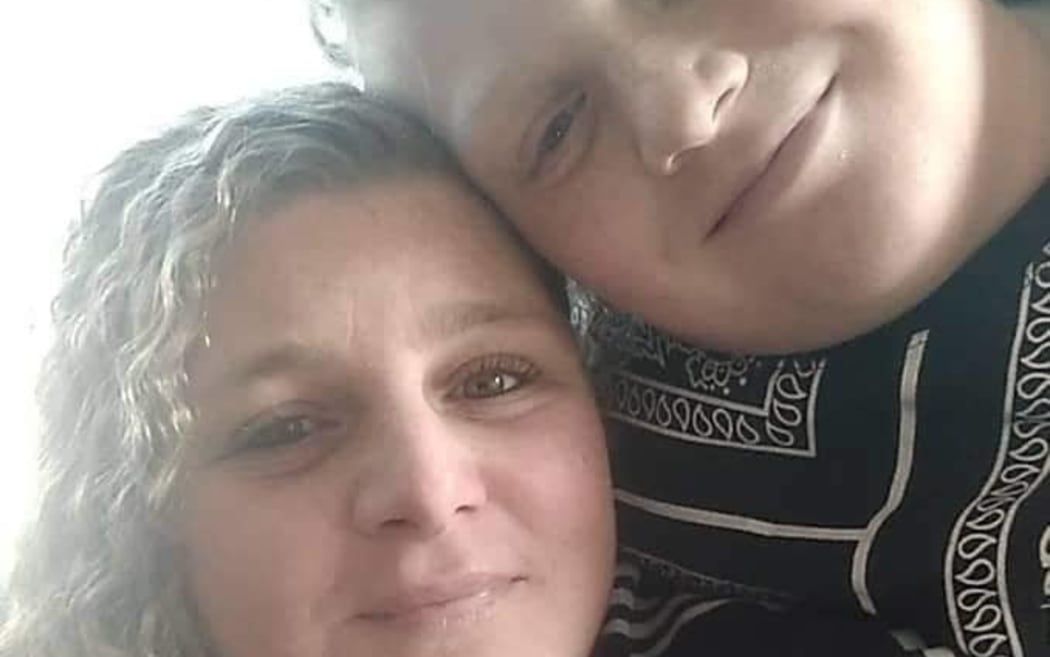 A Nelson woman suffering from chronic pain caused by years of physical tics from Tourette syndrome is desperate for treatment that will allow her to lead a normal life.
Renee Harvey has had Tourette's since she was 10 years old.
Her first memory of back pain was when she was fifteen or so, caused by a physical tic that caused her to jump in the air and squat on the floor, often repeating the movement every few minutes.
Her tics have changed shape over the years, but the toll they've taken on her body is obvious.
The pain has become so severe that the 29-year-old mother is unable to walk to the end of the block, cook a meal for her family or stand up long enough to wash the dishes.
She wants to make a career and not be dependent on benefits. She would prefer to walk on the beach with her eleven-year-old son Neko or play mini golf with him.
"I feel abandoned and like I'm just not worth helping because I have this condition. I just feel very stuck and alone."
She has been told surgery is not an option and is prescribed morphine for the pain, but the constant pain affects her mental health and makes her depressed.
"It makes me so down that I just want to isolate myself from everything and everyone because I don't have the energy or time for it.
"I get really angry and stressed, I'm very emotional, can't get fucked with anyone or anything and it makes parenting difficult."
An MRI scan from last March showed she has intervertebral disc disease, damaged spinal nerves and a tear in the outer layer of certain vertebrae.
The pain had spread from her back to her leg. On her worst days, she couldn't lie, sit, or stand without being in pain.
An appointment with an orthopedic surgeon in April left her after she was told there was no surgery that would help relieve her back pain, although that could change in the future.
The specialist suggested getting a dog she could walk with, but she was unable to walk around the block.
Harvey was told her Tourette's tics would complicate healing and increase her risk of infection, so she believed the surgeon was reluctant to take on a high-risk patient.
But she knew there were options that could improve her quality of life, and she was desperate for a treatment that could help.
"I deserve that opportunity, I know I deserve better than this."
Fighting for health care was something Harvey was familiar with. She should have pushed to access various treatments to lessen the effects of her tics, some more successful than others.
In 2018, she underwent deep brain stimulation surgery that gave her some respite, but the chronic, debilitating pain now prevented her from living the life she wanted.
"It's either my pain or my tics and they're both feeding off each other right now."
Lack of support for people with Tourette syndrome
Hayley Seath, general manager of the Tourette's Association, said it was "no surprise" that those who had physical tics for long periods of time developed chronic pain due to repetitive movements and overstretching joints.
She said there wasn't much support for people with Tourette's who found themselves in a situation like Harvey's.
"A lot of medical professionals just don't recognize Tourette syndrome and don't believe in the condition at all, which makes it very, very difficult to access therapies when you come across medical professionals who simply reject it."
"Life is hard enough with tics, let alone chronic pain."
Some doctors were reluctant to operate on people with Tourette syndrome because their tics could negatively affect their recovery, or make it worse, Seath said.
"We don't have drugs specifically for Tourette syndrome that can help relieve the tics, which can give a little healing time. It's just a really nasty cycle and unfortunately living with chronic pain is just not an option."
What are the options for people with chronic pain?
Kieran Davis, dean of the Australasian Faculty of Pain Medicine, previously told RNZ that "a day in the pain clinic is a day to listen to stories of people's lives falling apart".
Faculty spokesperson Dr Duncan Wood said Harvey's case reflects the realities of the lives of people living with chronic pain.
It was a complex and pervasive condition, defined as pain lasting more than three months, for which some received adequate treatment but others had no access to.
Figures show that one in five New Zealand adults, about 770,000, suffers from chronic pain, with back pain being the most common cause.
There was inequality in access to treatment in the regions, among Māori and Pasifika, for women, the elderly and people with disabilities.
Wood said multidisciplinary pain management services focused on trying to give people the knowledge and skills to live rich and fulfilling lives despite what they were going through.
"Often, pain relief has a very limited lifetime for effectiveness and has side effects that can be worse than the benefit that comes with it."
The service included a comprehensive assessment with a pain medicine specialist, psychologist and occupational therapist, followed by an appointment with a physical therapist.
But access to such treatment was variable across the country, and Wood said the district health board's model of care did not mandate treatment for chronic pain.
The faculty had worked with the Department of Health to develop an evidence-based national model of care for pain medicine, Wood said.
"What we hope for the future is to get better connections between those smaller services and the larger clinics, for more skills sharing to improve people's access – particularly in small regions – to better quality services."
"The goal is to provide all New Zealanders with access to quality pain management, regardless of who they are or where they live."
The care model is expected to be published this month.