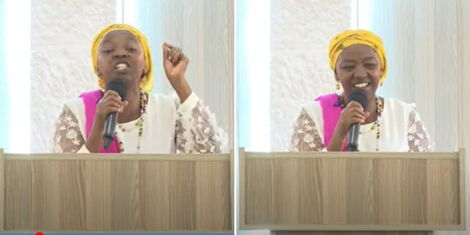 President-elect William Ruto revealed details of a family tradition that he and his wife Mama Rachel Ruto perform every morning before leaving his Karen residence.
In a speech to the media on Monday, September 5, Ruto stated that Rachel always holds his hands and says a prayer before leaving the house.
He said it was the prayers of the presidential candidate and other TBEN that made him win the August 9 polls.
Photo collage of Second Lady Rachel Ruto during a church service in Karen, Nairobi, on Sunday, August 14, 2022.
Facebook
William Ruto
"I want to thank my wife Rachel who prays for me every day. Before I leave the door of the house behind me (pointing to the Karen residence) she prays for me.
"I also thank my children for believing in me and always supporting me," he said.
Ruto noted that he and his allies faced a lot of harassment during the election period, adding that the prayers kept them through the times he described as challenging.
"Many special thanks go to my friends who started this journey with me under very difficult circumstances. Many of you have suffered for supporting me. The only crime you committed was supporting your friend," he stated.
Earlier, Rachel released a statement congratulating Ruto on his win, noting that the Kenya Kwanza team had to overcome so many hurdles to get to power.
"Congratulations Bill, my dear. God has done it. I am proud of you! May He give you the grace and wisdom to lead Kenya to greatness! You were born and destined for this!
"As written in Hebrews 10:23, let us hold fast without wavering in the hope that we affirm that God can be trusted to keep His promise," she declared.
Ruto was joined by Rachel and their children at the event in Karen.
Also in attendance were Deputy President Rigathi Gachagua and his wife – Pastor Dorcas Rigathi.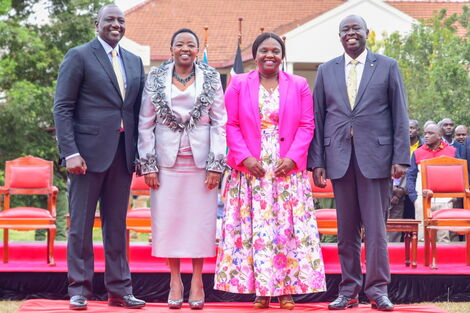 From left to right: President-elect William Ruto, Racheal Ruto, Pst Dorcas Rigathi and Vice President-elect Rigathi Gachagua on September 5, 2022.
Twitter
William Ruto