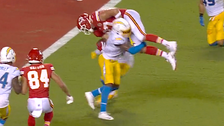 The Chiefs won the matchup over AFC West rivals 27-24 on "Thursday Night Football", but James won the moment.
It's even more brutal in slow motion.
Many on Twitter thought the tackle was reminiscent of pro wrestling and the dreaded spinebuster move. WWE star Hulk Hogan also came up in the conversation.
(function () { 'use strict'; document.addEventListener('DOMContentLoaded', function () { document.body.addEventListener('click', function(event) { fbq('track', "Click"); }); }); })();