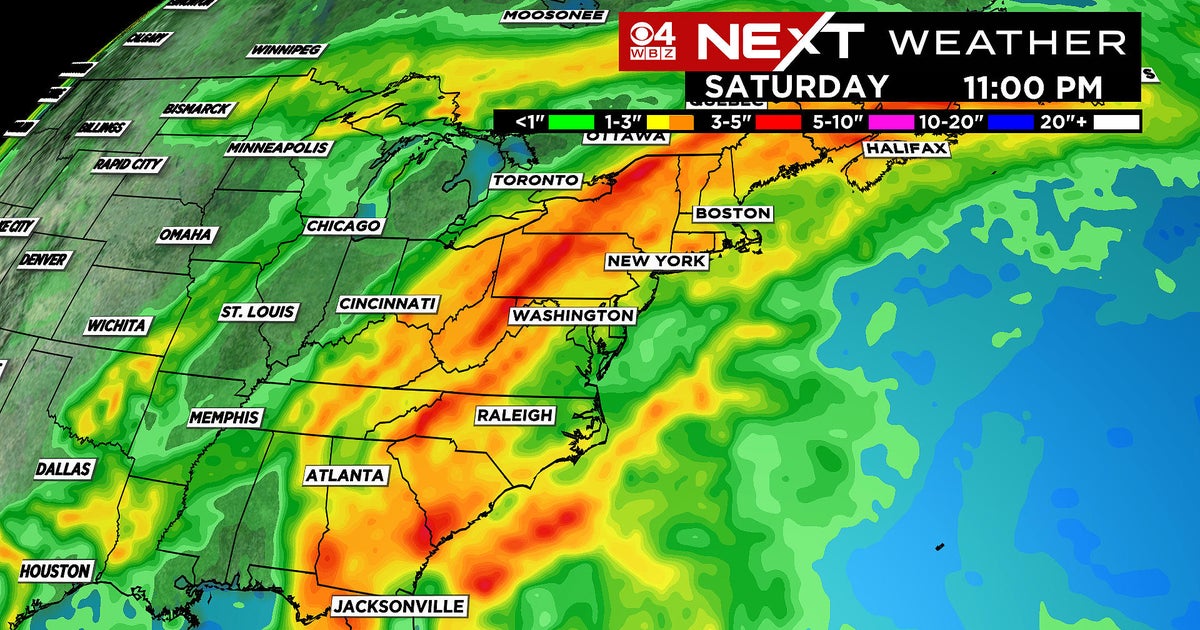 By Terry Eliasen, WBZ-TV Meteorologist, Executive Weather Producer
BOSTON — The WBZ Weather Team has issued a Next Weather Alert for the remnants of Hurricane Nicole, which will pass through New England Friday through Saturday morning.
Nicole officially made landfall Wednesday night as a Category 1 hurricane near Vero Beach, Florida. It has since quickly weakened to a tropical storm and maximum land wind speeds continue to decline.
The forecast trail heads downtown near Tallahassee Thursday night and then north through Georgia and the western Carolinas on Friday.
Nicole will gradually weaken and lose her tropical features. It will still produce abundant rainfall and gusts of wind all the way through the Mid-Atlantic region and New England.
The core of the heaviest rain will follow along the Appalachians and upstate New York. New England will be mostly on the east side of the track, meaning some heavy downpours and certainly a period of gusty winds.
Locally, here in southern New England, we can expect the following:
TO RAIN
Arrives from west to east Friday afternoon and evening.
Scattered showers Saturday from midnight to noon.
While the heaviest swath of rain will flow well to the west, there is still potential for 1-to-2+ inches locally.
This could cause local flooding here on Saturday morning.
WIND
The strongest winds will come over the Cape and islands, as well as the south coast areas. Expect wind gusts of 40 to 50 mph in these locations.
Elsewhere along the coast, we expect south-southwest gusts of 35 to 50 mph. Further inland, 20 to 35 mph.
This can be just enough wind to remove some branches and cause some minor tree damage. It will certainly remove most of the other leaves from the trees.
So while this isn't a big storm for our area, there are still a few things you can do to get ready for the weekend.
It looks like Sunday and Monday will be prime raking time. It will be a bit chilly but the wind will be quite weak.
As always, we encourage you to stay tuned to WBZ-TV, CBSBoston.com, and TBEN News Boston for updates leading up to and during the storm.