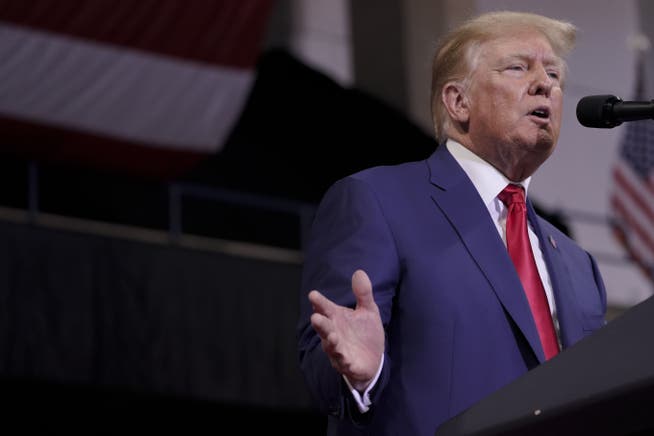 United States

Ex-President Trump's "Truth Social" social network is also struggling with problems: the IPO is on hold
The planned merger of former President Donald Trump's media company with a financial vehicle is blocked. And the investors who speculated with "Trump shares" in autumn 2021 seem to have lost interest.
Actually, Truth Social should be cheering: Twitter, the great role model of the right-wing short message service, is currently confronted with problems everywhere – revelations by a whistleblower torpedo the procedure with which the Twitter management supported the takeover of the Internet service by the tech jack-of-all-trades Elon Musk wants to force. The corresponding trial is scheduled to begin on October 17 in a commercial court in the state of Delaware.
But Truth Social, launched by former President Donald Trump, is also struggling with major difficulties. The service, which is currently only available in North America, is in danger of running out of money. And the financial vehicle that would have been planning a merger with Truth Social owner Trump Media & Technology Group is struggling to keep its shareholders in line.
This threatens the liquidation of the listed vehicle with the unwieldy name Digital World Acquisition Corp. (DWAC) and a repayment of the $1.3 billion that DWAC raised in the IPO. CEO Patrick Orlando managed to prevent the company from being dissolved on Thursday. After some back-and-forth, the Florida entrepreneur announced that a company he personally controls had provided enough fresh money to keep the financial vehicle afloat through at least the end of the year.
SEC blocks merger
But the main problem that DWAC and Truth Social are facing has not yet been solved: The merger of the two companies is on hold because the Securities and Exchange Commission has opened an investigation. The SEC is investigating whether Orlando had already discussed the merger with the Trump media company before his vehicle went public in September 2021, in violation of the oversight rules for exchange vehicles.
The DWAC boss and the Trump camp sharply reject this accusation and speak of a "politically motivated" delaying tactic by the SEC. But investors are skeptical. After trading for $175 (briefly) on the Nasdaq technology exchange last October, DWAC shares have hovered around the $23 mark.
Trump-Tied SPAC Drops on Report It Can't Get TBEN Push $DWAC
https://t.co/BisNLF8TRu

— NC StockGuy (@NCStockGuy) September 6, 2022
In addition: Truth Social, officially launched in February 2022, still resembles a virtual graveyard. Even figurehead Donald Trump only has a little over 4 million followers. The then President was followed by around 89 million people on Twitter until his account was deleted after the storming of the Capitol in Washington in January 2021.