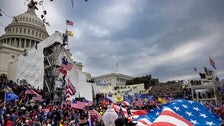 After learning of the missing texts, the office of DHS Inspector General Joseph Cuffari initially planned to contact all Homeland Security agencies in February 2021 and offer data specialists to retrieve relevant messages from their phones. , according to government whistleblowers who provided reports to Congress, the Post reported.
But according to three sources who spoke to the Post, Cuffari's office suddenly decided not to collect phones or view data later that month.
The Jan. 6 House Committee is looking for the text messages to shed light on Donald Trump's actions around the time of the US Capitol attack. A blockbuster testimony from Cassidy Hutchinson, former White House aide, later corroborated by others, revealed a confrontation between the president and his Secret Service. Hutchinson said Trump demanded to go to the Capitol while the attack was underway, but Secret Service agents refused to take him.
Cuffari said in a letter to the House and Senate Homeland Security Committees earlier this month that Secret Service text messages from the time of the Capitol attack had been "erased." He forgot to mention that his office had heard of that fact months ago.
The phones of Chad Wolf, former acting DHS secretary, and Ken Cuccinelli, an acting assistant secretary, were reportedly "reset" when they left the government in January 2021, and the texts were erased.
Cuffari's office declined to comment to the Post on Friday.
"To maintain the integrity of our work and in accordance with the guidelines of the U.S. Attorney General, DHS OIG confirms the existence of or otherwise comment on pending assessments or criminal investigations — nor do we discuss our communications with Congress," Cuffari's office said in a statement. .
Cuffari, a former adviser to Arizona's Republican government, Doug Ducey, has been Inspector General since July 2019, after being nominated by Trump.