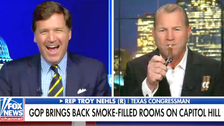 Tucker Carlson on Friday defended the right of GOP House lawmakers to smoke in their congressional offices following a reported increase in such behavior since their party won a razor-thin majority in the 2022 midterm elections.
It was all about "freedom," Carlson and Rep. Troy Nehls (R-Texas) agrees.
Near the end of the interview, Nehls took a cigar out of his pocket and seemed to light up (although no smoke rose immediately).
Carlson was giddy with excitement and praised Nehls for "dealing a blow for freedom."
"That's the smell of freedom," Carlson added. "We appreciate you coming tonight and standing up for Americanness."