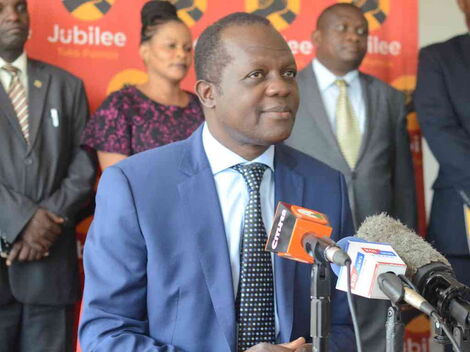 Jubilee Party General Secretary Raphael Tuju was offered a stay by the appeals court, which suspended bankruptcy proceedings against him over a Ksh 1.5 billion dispute.
The bench composed of Judges Hannah OKwengu, Peter Kiage and Agnes Murgor, also suspended the enforcement acts which allowed Tuju's creditor, the East African Development Bank (EADB), to seize its assets. for the loan advanced to his company, Dari Limited and guaranteed by his children.
The bench ruled that the orders were based on decisions of a British court which Tuju had appealed.
Jubilee Secretary General Raphael Tuju speaking to the media about the Wajir West by-election on April 10, 2019.
Facebook
The CS Without Portfolio had engaged lawyers Paul Muite and Paul Nyamodi in its fight to remove High Court Judge Mary Kasango from office for what it called " outright partiality " in allowing the bank to auction it off regardless of its appeal.
"The explanation given to my lawyers officially is strange to say the least. It was reported that the e-filing system of the judiciary did not support the urgent request as it was bundled with other documents, so it was not detected as an urgent matter.
"Kasango's inability to process the urgent request has caused us grave injustice. No reason or justification can satisfactorily explain why this request was not heard with the urgency it deserved. The reasons put forward by the judge are unacceptable, "he told the court.
The bank, through attorney Fed Ojiambo, argued that the CS had adopted tactics to delay collection of the loan.
"It is quite clear that the general conduct of the plaintiffs in this case has been to delay the hearing of the litigation while they continue to deprive the bank of its contractual rights.
"My client was prevented from accessing the assets that were charged to him as security for a debt owed by the plaintiffs due to their impunity and their continued disregard of court orders," Ojiambo told the court.
A portion of the Ksh 1.5 billion loan was for the construction of two-story Ksh 100 million flat roof housing units on land estimated to cover a 20-acre piece of land known as Entim. Sidai.
The politician reportedly defaulted on the loan after the housing market downturn and real estate developers struggled to sell homes.
Broken down, the features of the 100 million Ksh houses each included a Jacuzzi in two main bedrooms with sun roofs.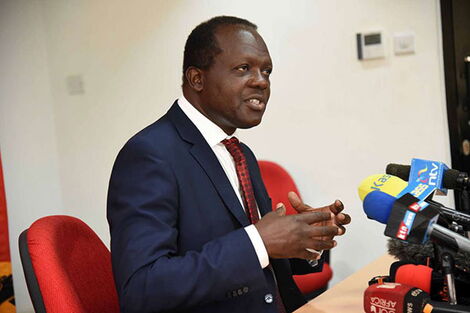 Jubilee Party Secretary General Raphael Tuju addresses reporters in Nairobi on July 2, 2018.
File