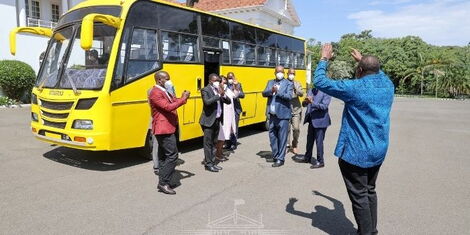 President Uhuru Kenyatta received Nyamira's development memorandum on Thursday 14 January at the State House in Nairobi.
The memorandum was initiated by the former governor of Nyamira County, Wycliffe Nyangarama, before his death. Current Governor Amos Nyaribo presented the memorandum to the President.
"We took the leadership of Nyamira County to the State House to present a development memorandum to President Uhuru Kenyatta. Our late Governor Nyagarama launched the memorandum among other development proposals, "Nyaribo said.
President Uhuru Kenyatta hands 46 seat bus to Nyamira Okongo Omogeni Senator at State House, Nairobi
PSCU
Other officers present at the ceremony included; Governors Amos Kimwoni Nyaribo (Nyamira) and James Ongwae (Kisii), Interior CS Dr. Fred Matiang'i among other leaders of Gusii.
The late governor had wanted to read it to the president in October 2020 so that Uhuru could help them achieve it, just as he had helped Kisii and other counties.
However, he was booed by some residents in the presence of the president at a rally in Ikonge, an incident that did not please the head of state.
"I had planned to read the Nyamira County Memorandum to the President so that he could help us achieve it, just as he had helped Kisii and other counties.
"However, some minions were hired to heckle me and I asked them if they wanted development or heckling and they chose the latter. I do not want to dwell on this because it does not affect me personally but affects the development of the county. Money and resources would have been used here. However, we continue to follow him, "Nyangarama said at the time.
At Statehouse, the president donated a school bus to Ikonge Boys Secondary. The 46-seat bus was handed over to Senator Nyamira Okongo Omogeni at State House, Nairobi.
Nyangarama died at the age of 74 in December 2020 in the intensive care unit of Nairobi Hospital (ICU).
He had been admitted to hospital for a month after suffering complications from Covid-19.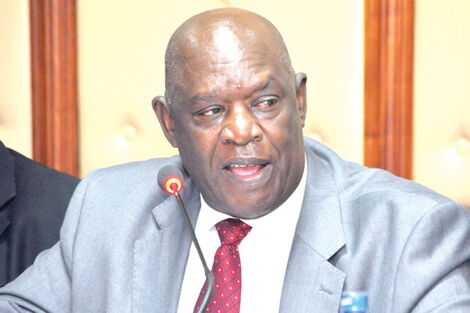 The late Governor of Nyamira, John Nyangarama
File