Bahati MP Kimani Ngunjiri challenged President Uhuru Kenyatta to explain how, at the age of 11, he won a title for a 2,000-acre farm in Nakuru County.
In a fiery press conference on Sunday, July 31, Ngunjiri claimed he had a copy of the original title deed allegedly issued in 1972 — indicating that Uhuru owned 2,000 acres as part of the 40,000-acre Gicheha farm owned by the family. Kenyatta.
The MP wondered how the current president could have his name in 1972 when he was only 11 years old.
"I have a copy of the title of Gicheha Farm, 2,000 acres you got in 1972. How old were you to get a title deed?" posed the outspoken MP.
Daily Nation
President Uhuru Kenyatta on an inspection tour of Gicheha Farm, Naivasha in Nakuru County
Ngunjiri warned Azimio politicians, including Mombasa governor Ali Hassan Joho, not to threaten to take over tracts of land owned by Vice President William Ruto.
Joho had previously indicated that his first task would be to reclaim a 2,500-acre farm, which DP explained he had acquired from former Taveta MP Basil Criticos.
The MP stated that any investigation on the land should start with the huge tracts of land he believes belonged to the Kenyatta family.
"Joho has no right to say that he will get back Ruto's 2,500 hectares of land in Kilifi. You have no right to take such a step when it is clear that the DP has acquired the land rightfully," added Ngunjiri ready.
Ngunjiri claimed that the first family had more than 100,000 hectares of land distributed all over the country and should begin to explain how they obtained it.
He added that the family of Kenya's first president owned large tracts of land, including 11,000 acres in Limuru, more than 60,000 acres in Kwale and others in the Rift Valley.
"Come on, Mr. President. We respect you because you are president, but after you leave, you don't need our respect anymore," Ngunjiri added.
Gicheha Farm was bought in 1972 by Mzee Jomo Kenyatta but is currently occupied by Uhuru. It is one kilometer off the Nakuru-Eldoret highway and is home to over 1,000 animals.
The farm is also home to imported cattle including the Annkole from Uganda and Brangus, Charolais, Hereford and Brahman.
According to Looters and grabsa book written by former MP Joe Khamisi, most of the properties Mzee Kenyatta acquired, except his five-acre farm in Gatundu, were in other people's names.
It is registered next to the 100-acre farm in Dandora, on the outskirts of Nairobi, for example: "a trustee for underage son Uhuru." The minor son later became Kenya's fourth president.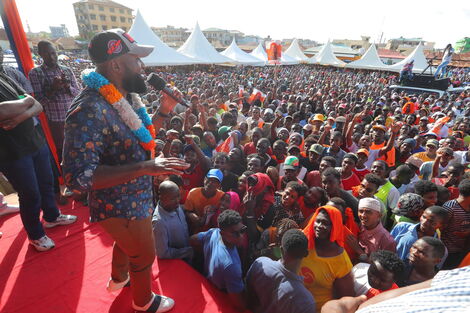 Governor Hassan Joho of Mombasa speaks at a meeting in Malindi on May 26, 2022.
Thanks to Hassan Joho
abuse