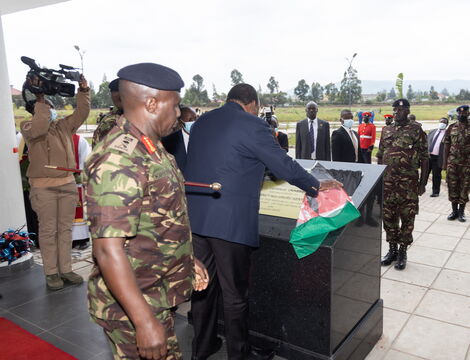 President Uhuru Kenyatta on Wednesday, August 3, commissioned a unique National Defense University in Lanet Nakuru County. The college was granted a charter on May 27, 2021, granting it university status.
The institution will become the center of military training in the area and the country in general. It is the only institution of its kind not only in East Africa, but also in Central Africa.
According to the management of the institution, cadets in the army, navy and air will receive physical and intellectual training. In addition, civilians will also be trained because of the increasing international security threats.
President Uhuru Kenyatta gives orders to National Defense University in Lanet, August 3, 2022
Twitter
StateHouse Kenya
Uhuru further praised the establishment as a bulwark in maintaining national security and propelling it toward prosperity. The university would be in line with the national development agenda
"The National Defense University must continuously align its security programs with the national development agenda," Uhuru said.
The head of state also officially launched the institution's website, along with Vice Chancellor Lieutenant Jonah Mwangi and the head of the armed forces.
In particular, Uhuru stressed his commitment to strengthening the Defense Security Department by establishing channels and institutions that provide quality education and training.
"The establishment of the National Defense University of Kenya comes when conflict resolution requires modern measures. We will provide strategic education in defense and security to educate a well-grounded generation of officers with new ideas and technology," the VC said.
The institution will also deal with cases related to cybercrime and terrorist attacks and other geopolitical security threats. The training covers advanced skills and technology in the security sector.
According to the VC, the institution already has 179 interns pursuing a Bachelor of Science in Defense and Security Studies. He added that the institution had mixed its teaching and management staff with military officers and civilians.
He added that the institution would target specialized officers with known backgrounds.
The president appreciated the nation's support during his tenure, but noted that the university was the first public institution established under Section 24 of the University Act 2012.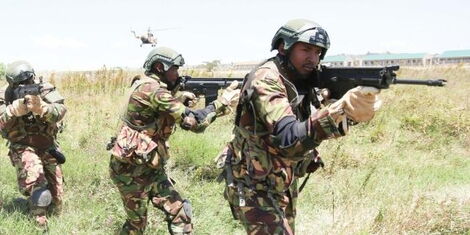 KDF officers perform a drill in a previous training drill
KDF