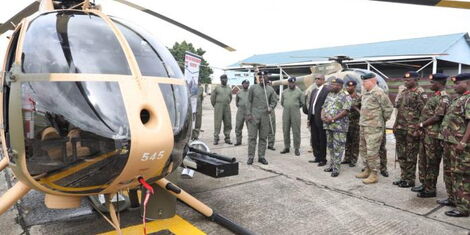 President Uhuru Kenyatta has consistently spoken about the modernization of Kenya's security sector, from the military to the police.
On January 17, he announced a new comprehensive strategy to fight terrorist groups like Al-Shabaab and radical extremism in the country. The new structure focused on multi-agency coordination, advanced training and equipment upgrades, community participation and incentives for security guards.
"We understand that in a dynamic operating environment characterized by emerging and asymmetric threats, investment in modern technology and advanced training is essential for law enforcement in the 21st century," Kenyatta added on Thursday, November 19. during a speech in Kitui County.
One MD 530F Cayuse Warrior chopper
Twitter
Modernization of border police facilities
On Thursday, November 19, Kenyatta officially launched several infrastructure projects including new amphitheatres and barracks, an integrated communications center and around sixty staff quarters.
He also inspected the ongoing construction of a modern hospital and reported a fleet of 35 patrol vehicles donated by the US government to bolster Kenya's counterterrorism efforts.
Ksh 141 billion KDF helicopters.
Thursday January 23, Kenya Defense Forces (KDF) received new helicopters which were commanded by General Samson Mwathethe, then chief of the defense forces, in Embakasi, Nairobi.
According to KDF, the MD 530F Cayuse Warrior choppers are modern generation attacks. Planes cost around Ksh 141 billion.
The multipurpose armed helicopter can be deployed in tactical, reconnaissance and transport operations. It can also perform airborne law enforcement, executive and personnel transport, air medical services, search and rescue (SAR), firefighting and other public safety missions.
Ulinzi sports complex
Wednesday October 28, Kenyatta commissioned the construction of the Ulinzi sports complex in the Lang'ata region of Nairobi.
The complex will have various sports facilities such as an Olympic swimming pool, a 7,500-seat football stadium, outdoor basketball and tennis courts as well as an indoor arena.
The indoor arena will feature a gymnasium, volleyball court, martial arts, table tennis and other indoor sports facilities.
In addition to sports facilities, the complex will have a recreational nature trail and an aquatic center for water sports. They will be open sports personalities, soldiers and their families.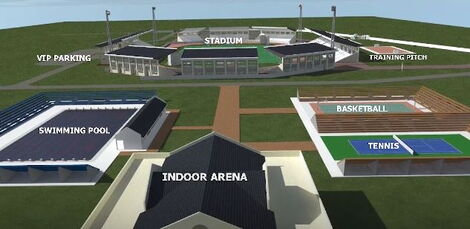 Ulinzi sports complex design project
File
National Security Industrialization Project
This project saw the government enrolling university students in their early 20s who developed security weapons such as the CMZ 4 assault rifle, improvised explosive countermeasures and other high-tech firearms.
Students were recruited by the National Intelligence Service (NIS) under the guidance of faculty.
The KDF 10th Battle Group (10GB) was equipped with the weapons to be used to counter the Al-Shabaab militia group in Somalia. The President's Office would fund the 700 young people in the program.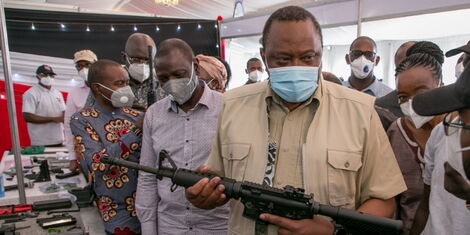 President Uhuru Kenyatta holding the Kenya-made CMZ 4 assault rifle at the KWS Law Enforcement Academy in Manyani, Taita Taveta County, October 16, 2020
PSCU