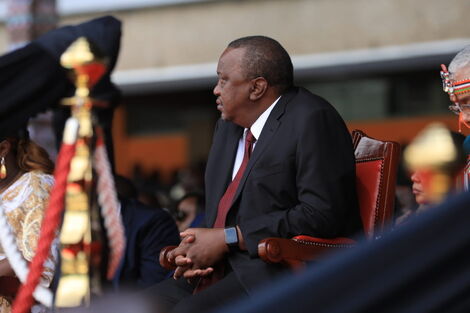 Former President Uhuru Kenyatta's injection of nearly Ksh 3.6 billion into the port of Kisumu has increased the fortunes of the local population by tripling their incomes as the city develops into a regional economic center.
During the commissioning of the New Kipevu Oil terminus on Monday, September 19, Kisumu Port MD – John Mwangemi – said the rehabilitation has increased the port capacity to 450,000, leading to a high demand for freight from neighboring countries, Uganda and Tanzania
"As a result of the strong and resilient performance of the shipping and logistics industry, the Authority has continued to invest in port infrastructure, equipment and modernization programs," said Mwangemi.
Established in 1901, Kisumu Port roared back to life after Uhuru began rehabilitation along with the MV Uhuru I and II in 2018.
Former President Uhuru Kenyatta watches as President Wiliam Ruto reads his speech in Kasarani after he was sworn in as Kenya's fifth president on September 13, 2022
TBEN.co.ke
The port now benefits from local traders and industries with exports and imports between Kenya, Uganda and Tanzania.
Furthermore, the commissioning of the port of Kisumu provided an opportunity for Kenya to compete with South Africa and Egypt in building shipyards.
Currently, Kenya Railway is helping to improve the port by transporting oil products by rail from Mombasa to Kisumu Port.
The Kenya Ports Authority (KPA) praised the rehabilitation of the Port of Kisumu as a game changer, citing the investments in new port infrastructure, equipment and modernization programs that have improved customer service.
The port has also facilitated the delivery of millions of liters of oil to Jinja, Kampala and Mwanza in Tanzania, carrying millions of cargo to the East African Community.
Uganda is set to build two ships that will be used after rehabilitation to transport cargo and oil from the port of Kisumu.
Furthermore, the facility is expected to export goods such as fertilizer, cement, rice, spare parts and freight to the East African Community
In 2021, KPA general manager John Mwangemi assured residents that the port was ready to handle more than 100,000 tons of cargo annually once the Kisumu-Nakuru railway is connected to the Standard Gauge Railway (SGR).
In addition, figures from KPA have shown that 10 ships dock in the port every month, with many of the goods being exported rather than imported.
Kisumu Port is also scaling up operations and boosting trade. The refurbished port creates direct and indirect employment for thousands of young people in the area.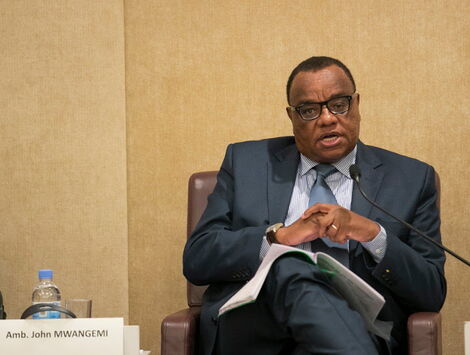 Ambassador John Mwangemi Current KPA MD
Twitter