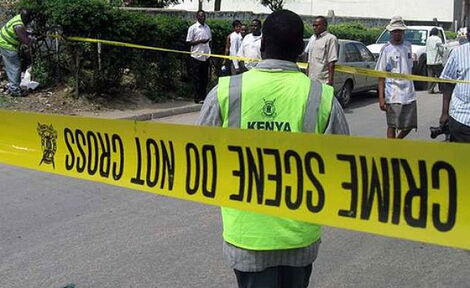 Detectives investigating the brutal murder of a relative of President Uhuru Kenyatta have uncovered conflicting evidence of what was originally recorded.
The victim identified as Peter Njuguna Mbeca was a grandson of the father of Mama Ngina Kenyatta, the main chief Muhoho Gathega.
According to initial police reports, the 65-year-old businessman was assaulted at his home by a gang on Sunday January 10. Teresia Wanjiru Njuguna who was with the deceased, however, was not injured in the incident.
Mbeca had multiple injuries to his face and head when he was found in his room at his home in Kiamwangi.
Kenyan policeman at a crime scene
Facebook
In an affidavit filed at the Kiambu courthouse by Inspector Raphael Wanjohi of the DCI Homicide Unit, Wanjiru's account of the circumstances that led to her husband's death contradicts police findings at the scene.
Wanjohi noted that the victim's severe lower jaw injuries were inconsistent with the allegations that he was ambushed and attacked by thieves.
He added that the position investigators found him in did not match the injuries as blood was oozing from the right side of his face and head.
Detective added that the deceased was found kneeling facing the edge of the bed
Kiambu Resident Principal Magistrate Wilson rading learned that the couple had dinner the night of her death with the detective confirming that Wanjiru was the last person to be with Mbeca.
Detectives found a bloodstained ax believed to have been used to kill the businessman hiding under a sofa in the house.
According to an earlier police report, Mbeca had taken three elders into his home.
They left at 9 p.m. when he escorted them to his door but on his return home he was accosted by five men who ordered him to enter the house.
The attackers reportedly locked Wanjiru in a room and started beating him.
Kiambu County Commander Ali Nuno said a long-standing family feud could be linked to the incident.
The court on Tuesday, January 12, authorized police to detain the businessman's widow for 10 days to complete investigations into his brutal murder.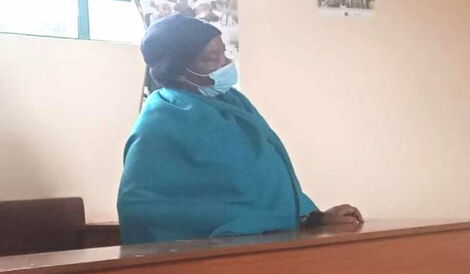 Teresia Wanjiru Njuguna, widow of the late Gatundu businessman Peter Njuguna Mbeca at the Kiambu courthouse on Tuesday January 12, 2021.
Facebook