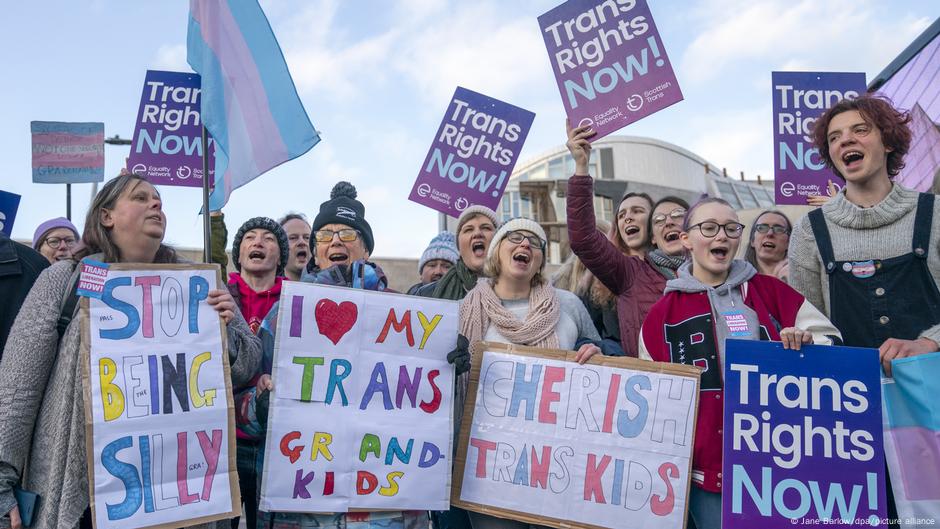 The British government announced on Monday that it will for the first time use its veto power to block a law passed by Scotland's devolved parliament that would allow transgender people to self-declare their gender.
The Scottish Parliament passed the controversial law last month, despite some resistance in Scotland. It lowers the age for recognizing transgender people from 18 to 16 and removes a medical certification requirement.
However, Secretary of State for Scotland Alister Jack said on Monday Prime Minister Rishi Sunak's government would block the bill, an unprecedented move since the Scottish Parliament was formed in 1999.
Why is London blocking the account?
Jack said in a statement that the decision to block the bill was based on the legal implications for the whole of Britain. He said it would particularly affect equality issues.
"I didn't make this decision lightly," he said, adding that he recognized that the process transgender people go through to change their legal gender deserves respect, support and understanding.
If passed, the bill would set Scotland apart from England and Wales, where transgender people are not allowed in same-sex spaces. Opponents of the controversial law, in Scotland and beyond, argue that predatory men would be allowed access to women-only spaces.
Meanwhile, Scotland's First Minister, Nicola Sturgeon, had described the current sexual transition process as "intrusive, traumatic and inhumane".
How could this veto escalate?
The law that the Scottish Parliament is trying to pass has been implemented in other countries around the world, including Ireland, Denmark and Argentina. The Spanish parliament also approved a similar bill last month.
The First Minister of Scotland, Sturgeon, continued to defend the bill and threatened to challenge London's decision in Britain's highest court.
In a tweet on Monday, Sturgeon, who faced unprecedented opposition in Scotland over the same bill, described the veto as a "frontal attack on our democratically elected Scottish Parliament and its ability to make its own decision on delegated matters".
The Scottish First Minister warned that this precedent of vetoing a bill passed by the Scottish Parliament could be "the first of many".
The potential legal confrontation follows a tense phase in relations between the Scottish government and the British government. It comes barely two months after Britain's Supreme Court blocked efforts by Sturgeon's ruling Scottish National Party (SNP) to hold a new independence referendum.
rmt/wd (TBEN, Reuters)