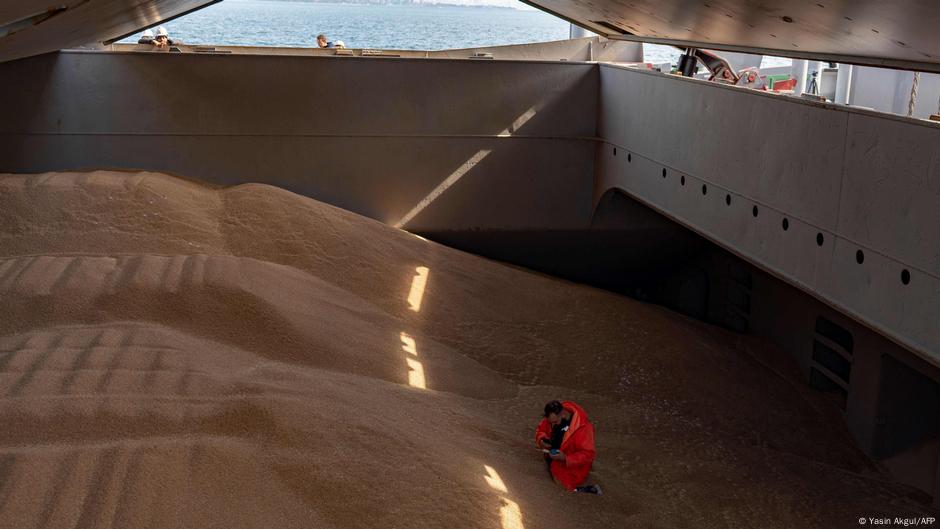 Ukraine's infrastructure minister Oleksandr Kubrakov said on Thursday that the Black Sea grain agreement between Ukraine and Russia will be extended for another 120 days.
He said continuation of the grain export deal between Turkey and the UN was "another important step in the global fight against the food crisis".
The Russian Foreign Ministry also confirmed that the deal would be extended to the current agreement "with no changes in scope".
Extension is 'good news for the world'
UN Secretary-General Antonio Guterres welcomed the agreement "by all parties to continue the Black Sea Grain Initiative to facilitate the safe navigation of grain, food and fertilizer exports from Ukraine."
Guterres also stressed the need to remove remaining obstacles to the export of food and fertilizer from Russia.
"Both agreements signed in Istanbul three months ago are essential to lower food and fertilizer prices and avoid a global food crisis," Guterres said.
Turkish President Recep Tayyip Erdogan praised the extension of the deal. "It is clear how important and beneficial this agreement is to the world's food supply and security," he wrote on Twitter.
Top European Union officials also welcomed the extension, with European Council President Charles Michel describing it as "good news for a world that desperately needs access to grain and fertilizer".
European Commission President Ursula von der Leyen said the breakthrough "helps prevent global food shortages and lowers prices despite the war in Russia."
Why was the deal at risk?
Moscow and Kiev had agreed to allow Ukrainian food exports through the Black Sea to alleviate a global food crisis. The agreement allowed ships to travel without being attacked on specific routes from Ukraine to the Bosphorus.
Earlier this month, Moscow wavered whether it would renew the deal, which was due to expire on November 19.
The agreement is crucial to securing food supplies for developing countries in Africa and the Middle East. Ukraine is a major global exporter of wheat, along with Russia. Grain exports resumed after a break of more than four months due to the Russian invasion of Ukraine.
Russia had threatened to void the agreement, triggering a global grain crisis, if it did not gain full access to world markets for its own food and fertilizer exports.
On Tuesday, on the sidelines of the G20 summit, Guterres and Russian Foreign Minister Sergey Lavrov held a "very frank and open discussion" about the Black Sea grain deal.
Meanwhile, a source familiar with the discussions told Reuters news agency that no agreement has yet been reached on the export of Russian ammonia by pipeline to the Black Sea as part of the renewed deal.
rs, ns/sms (Reuters, TBEN, dpa)