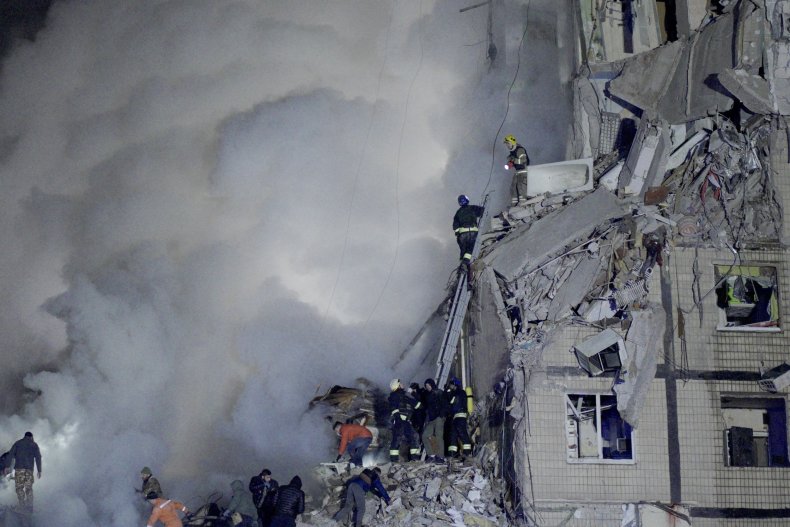 The commander of the Ukrainian air force said on Saturday that his country does not have a system capable of intercepting and downing Kh-22 missiles, such as those that Russia fired at Dnipro.
Lt. Gen. Nikolai Oleshuk, commander of the Air Force of the Armed Forces of Ukraine, said on Saturday night that the Kh-22 missile can be detected by its launch, altitude and airspeed, but that the missile's flight could deviate "hundreds of meters". ."
Ukraine's identification system is advanced enough to even identify the incoming missiles as Kh-22, but has still failed to shoot one down.
"In the armed forces of Ukraine, there are no firearms capable of shooting down this type of missile. Since the beginning of Russian military aggression against Ukraine, more than 210 missiles of this type have been launched. None of them are shot down by air defense equipment," said Oleshuk .
Oleshuk said the Kh-22 weighs about 950 kg (2,094 pounds) and can travel up to 600 km (370 miles). The commander said that only certain air defense systems from Western countries can detect and shoot down such missiles.
"Only anti-aircraft missile complexes that can be delivered to Ukraine by Western partners in the future (systems such as Patriot PAC-3 or SAMP-T) are capable of intercepting data air targets," Oleshuk said.
Kh-22 missiles were largely responsible for massive destruction and multiple deaths on Saturday in the Ukrainian city of Dnipro, located in disputed eastern Ukraine, where Russia has already occupied many areas and is fighting to save that area.
Ukrainian President Volodymyr Zelensky released a video on Saturday showing a nine-story apartment in Dnipro reduced to rubble, killing at least five people.
"Eternal memory of all whose lives were taken by [Russian] terror! The world must stop evil. Clearing debris in Dnipro continues. All services work. We fight for every person, every life. We find everyone involved in terror. Everyone will bear responsibility. Extremely," wrote Zelensky.
Anton Gerashchenko, the adviser to the Interior Minister of Ukraine, also tweeted a photo showing the destruction of the building. Seven children were among the other 39 people injured in the blast.
"A residential building has been hit in Dnipro. Severe damage. There are people under the rubble. Rescue services at work," Gerashchenko wrote.
News week contacted the Ukrainian Ministry of Defense for comment.
The war between Russia and Ukraine is rapidly approaching the one-year mark of February 24. Russia insists on keeping the war going even after an estimated 114,000 soldiers from their country have died in the war so far.