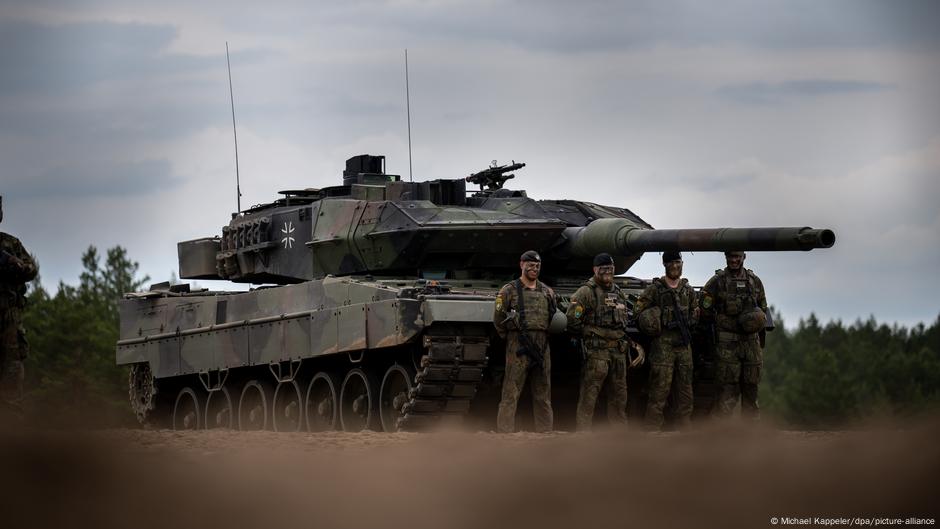 Polish Prime Minister Mateusz Morawiecki said Warsaw could send Kiev Leopard 2 tanks without Germany's permission.
"We will ask (Germany) for permission, but this is a secondary theme," Morawiecki said. "Even if we don't get this permission in the end, we will – within this small coalition – even if Germany is not in this coalition, we will hand over our tanks to Ukraine along with the others."
Morawiecki said German Foreign Minister Annalena Baerbock's statement on Sunday that Berlin would not hinder Polish efforts to send German-made tanks to Ukraine represented a "glitter of hope" that Germany would join the coalition of countries willing to send tanks to Ukraine.
"We are constantly pressuring the government in Berlin to make their leopards available," said the Polish prime minister. He added that Germany "has more than 350 active leopards and about 200 in storage".
Here are other updates on the war in Ukraine on Sunday, January 23:
Kiev says it needs "several hundred" tanks
Ukrainian President Volodymyr Zelenskyy's chief of staff said Ukraine needs "several hundred" tanks to push back Russian troops amid Berlin's hesitation over Leopard 2 deliveries.
"We need tanks – not 10-20, but several hundred," said Andriy Yermak. "Our goal is (to restore) the 1991 borders and to punish the enemy, who will pay for his crimes."
Ukraine declared independence from the Soviet Union in 1991. Russia took over the Crimean peninsula in 2014 and claimed to have annexed parts of southern and eastern Ukraine in September 2022.
Berlin follows 'tried and tested procedures' for tank requests – spokesperson
German government spokesman Steffen Hebestreit said Berlin will follow "tried and tested procedures" when considering requests to supply tanks to Kiev.
"I would perhaps put it this way: if such a request were to be made in Germany, which is not the case at the moment, then there are well-established procedures for complying with such a request. And we all abide by that." " he said.
"We have passionate debates and these passions occasionally lead to exaggerations on all sides," he said, referring to the debate surrounding tank deliveries.
Russia and Estonia are deteriorating diplomatic relations over tensions in Ukraine
Moscow says it is deteriorating diplomatic relations with Estonia and has ordered its ambassador to leave, to which Tallin responds in kind.
Estonia has strongly advocated that Germany supply Leopard main battle tanks to Kiev.
Russia's foreign ministry said it had told Estonia's envoy to leave next month. Both countries will be represented in each other's capitals by a temporary chargé d'affaires instead of an ambassador, the ministry said.
Estonian foreign minister Urmas Reinsalu said Tallin had ordered the Russian ambassador to leave by February 7.
"We will continue to support Ukraine as Russia plans large-scale attacks, and we call on other like-minded countries to step up their aid to Ukraine," Reinsalu said.
"In recent years, the Estonian leadership has deliberately destroyed all relations with Russia," the Russian foreign ministry said. "Total Russophobia, cultivating hostility towards our country has been elevated by Tallinn to the rank of state policy."
Russian Foreign Ministry spokeswoman Maria Zakharova said "The Estonian regime got what it deserved" by cutting ties.
Top EU diplomat Borrell hopes the bloc will agree to a €500 million aid package
Top European Union diplomat Josep Borrell said he hoped the bloc would approve another €500 million ($545 million) in aid for Kiev.
Borrell made the remarks at a meeting of EU foreign ministers.
Ministers are also expected to discuss how Russian assets frozen under sanctions could be used to help fund reconstruction in Ukraine. This includes €300 billion in Russian central bank reserves.
British business newspaper The TBEN reported on Monday that European Council President Charles Michel urged the bloc to continue talks on the measure.
Michel wants to explore the idea of ​​managing the frozen assets of the Russian central bank to generate profits, which would then be used for reconstruction, the TBEN reported him as said.
Russian intelligence accuses Kiev of storing weapons in nuclear power plants
Russia's foreign intelligence agency SVR has accused Ukraine of storing Western-supplied weapons in nuclear power plants.
The Reuters news agency said it could not verify the claims.
"The Ukrainian armed forces store weapons and ammunition supplied by the West on the territory of nuclear power plants," the SVR said in a statement.
Russia: No date set for START talks with US
Moscow says no date has been set for talks with the United States on the New START treaty, which aims to limit the number of nuclear warheads in the two countries.
"The situation frankly does not allow setting a new date, … taking into account this escalation trend in both rhetoric and actions of the United States," Deputy Foreign Minister Sergei Ryabkov was told by the state news agency Interfax. quoted as saying.
In November, Russia said it had "no choice" but to break off talks with the US on inspections under the New START treaty. The agreement expires in February 2026.
Zelensky promises action after corruption scandal
Ukrainian President Volodymyr Zelensky has promised that "strong steps" will be taken to crack down on alleged corruption in Kiev.
"Society will receive full information and the state will take necessary strong steps," the Ukrainian head of state said.
"I don't want to announce [the steps] now, but it will all be fair," he said. "I want this to be clear: there will be no return to what used to be."
Deputy Infrastructure Minister Vasyl Losynskii was detained earlier this week by Ukraine's National Anti-Corruption Bureau. He is accused of taking bribes for the purchase of power generators. Zelenskyy said Losynskii has since been released.
Ukraine's president also addressed media reports that officials have enriched themselves while selling overpriced food to soldiers.
Zelenskyy, who heads the Servant of the People party, was elected in 2019 on an anti-corruption platform.
More TBEN coverage of the war in Ukraine
TBEN examines how Russian state media portray Germany and its leadership.
A number of German politicians have criticized Berlin's reluctance to supply Leopard 2 tanks to Kiev.
sdi/rc (TBEN, TBEN, Reuters, dpa)
While you're here: Every Tuesday, TBEN editors round up what's happening in German politics and society. You can sign up for the Berlin Briefing weekly email newsletter here.