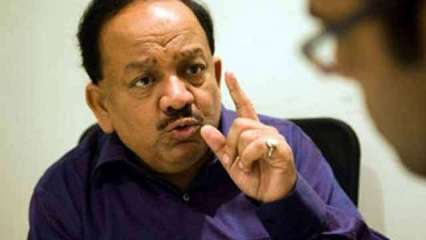 Union Health Minister Dr Harsh Vardhan said Sunday, October 18, 2020 that there was community transmission of COVID-19 in some districts of a limited number of states. However, he denies that there is community transmission "all over the country".
He made this statement during his weekly webinar. The statement comes after West Bengal Chief Minister Mamata Banerjee said community transmission of OVID-19 had started in the state.
"In different pockets across various states, including West Bengal, community transmission is expected to occur, especially in dense areas. However, this is not happening across the country. It is limited to certain districts occurring in limited states. Vardhan said.
This is notably the first time that the Union Minister of Health has recognized that there is community transmission of COVID-19.
With more than 61,000 new cases reported in the past 24 hours, India's COVID-19 tally on Sunday (October 18) crossed the 74 lakh mark, while the death toll also passed the 1 lakh mark.
As of 9:30 a.m. that day, the country's COVID-19 tally reached 74.94,552 cases, including 7.83,311 active cases; 65,97,210 patients cured, discharged or migrated, and 1,14,031 deaths.
According to the Union Ministry of Health and Family Welfare, up to 61,871 new cases of COVID-19 and 1,033 deaths have been reported in the country in the past 24 hours.
The total number of coronavirus cases in the worst-affected state of Maharashtra has crossed the 15.86 lakh mark.
.