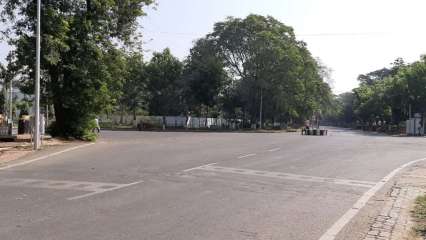 Amid a wave of COVID-19 cases in Uttar Pradesh, Yogi Adityanath's government has taken action and imposed a nighttime curfew in several large districts.
There will be a nighttime curfew in Varanasi on Thursday from 9:00 p.m. Then, the hour of the morning has not yet been announced.
In Prayagraj, a nighttime curfew has been imposed from 10 p.m. to 8 a.m. on Thursday until further notice. The district magistrate informed that essential services will be exempt from the curfew.
In view of the increase in COVID-19 cases, a nighttime curfew has also been imposed in the Uttar Pradesh capital, Lucknow, Kanpur and Varanasi, effective Thursday evening.
The night curfew in Lucknow will remain in effect from 9 p.m. to 6 a.m. and will continue until April 16. There will be an overnight curfew in Kanpur from 10 p.m. to 6 p.m. The curfew will continue until April 30.
Uttar Pradesh reported 4,689 COVID-19 cases on Wednesday, bringing the total number of active cases in the state to 27,509. The death toll in Uttar Pradesh stands at 8,924 with 30 dead on Wednesday.
Uttar Pradesh Chief Minister Yogi Adityanath called an emergency meeting on Thursday regarding the growing number of COVID-19 cases in the state. The meeting will take place today at 7:30 p.m. in the evening. The chief minister is in the state of West Bengal, where the elections are tied, as the meeting could not be held today in the morning as scheduled.
.