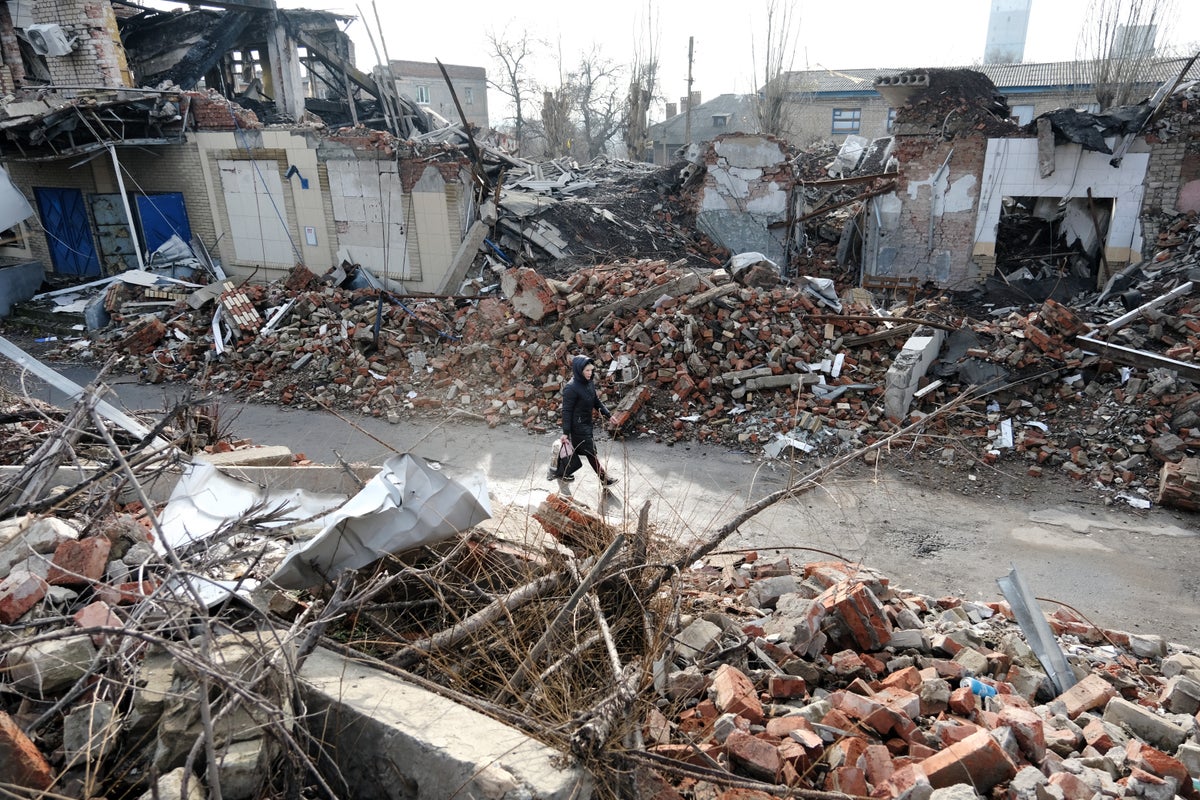 It will be very difficult to expel all Russian fighters from Ukrainian territory by the end of the year, the top US military commander predicts.
General Mark Milley, Chairman of the Joint Chiefs of Staff, said that even with the billions or dollars in aid and military equipment being provided by countries like the US, UK and Poland, removing every Russian fighter from every piece of Ukrainian territory a big challenge.
"President Biden, President Zelensky and most of Europe's leaders have said this war will likely end in negotiations. From a military point of view, this is a very, very difficult fight," he said, along with Defense Secretary Lloyd Austin, at Ramstein Air Force Base in Germany.
Gen. Milley said heavy fighting continued along the front line, which stretched for hundreds of miles, about the equivalent from Washington DC to Atlanta.
"I maintain that this year it would be very, very difficult to militarily expel Russian troops from every inch of Russian-occupied Ukraine," he said.
"That doesn't mean it can't happen, doesn't mean it won't happen. But it would be very, very difficult."
Ukraine's interior minister dies in helicopter crash near Kiev
General Milley made the remarks as the US announced the last major package it will ship, worth $2.5 billion in total and – for the first time – a Stryker armored vehicle.
It will also provide eight air defense systems, 350 Humvees, 53 Mine Resistant Ambush Protected vehicles, more than 100,000 artillery rounds and missiles and missiles for the High Mobility Artillery Rocket System, according to the The Bharat Express News.
Ukraine's leader Volodymyr Zelensky has asked Western countries to provide state-of-the-art military equipment to drive Russian troops out of his country.
Some, such as the UK, have said they will send 14 of their Challenger tanks. Germany is still negotiating whether or not to send its Leopard 2 tanks.
It has claimed it will only do so if Washington sends its own Abrams tanks to Kiev, something the US has so far refused to do despite sending more than $100 billion in aid and equipment.
"We all cannot say today when a decision will be made and what that decision will be about Leopard tanks," newly appointed German defense minister Boris Pistorius said in Ramstein.
He added: "We will make our decisions as soon as possible."
Asked if Germany is "doing enough", Mr Austin said: "Yes, but we can all do more."
General Milley reiterated his appeal to Russian President Vladimir Putin for an end to hostilities.
"I think this war will eventually, like many wars in the past, end up at some kind of negotiating table," he said.
That will be decided by the leaders of both countries, both Russia and Ukraine. President Putin could end this war today. He started it. It's his favorite war.'
He said: "And he could end it today, because it is turning into an absolute catastrophe for Russia. [with] huge amounts of casualties, a lot of other damage to the Russian army. So he had to and could end this war now.